JULIANNE MOORE | 59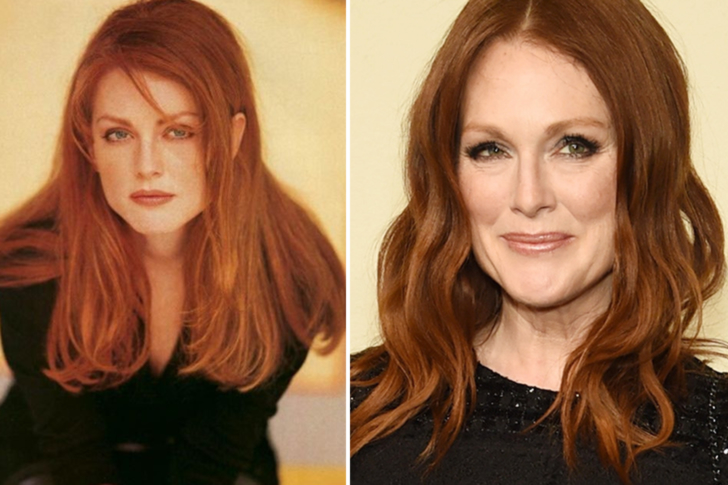 Actress and author Julianne Moore started her Hollywood journey in the early 80s after getting cast in the television series As The World Turns. She is nearing 60, but is, to her credit, looking as beautiful as ever. The actress has managed to maintain her youthful appearance and while it's been speculated that she's gotten plastic surgery, Moore says otherwise. She claims that it's her workout routine, as well as Ashtanga Yoga, that's keeping her in the pink of health. Moore claims it's also her dedication to loading up on fruits and vegetables that's keeping the wrinkles away.
Julianne recently appeared alongside Richard Gere to present an award at the Golden Globes, where she wore a white dress that flaunted her porcelain skin. In an interview with In Style magazine, Julianne revealed that the question she gets asked about most is her secret to looking like she is aging in reverse. Well, she has answered the question, now all we have to do is try it for ourselves, too!
BROOKE SHIELDS | 54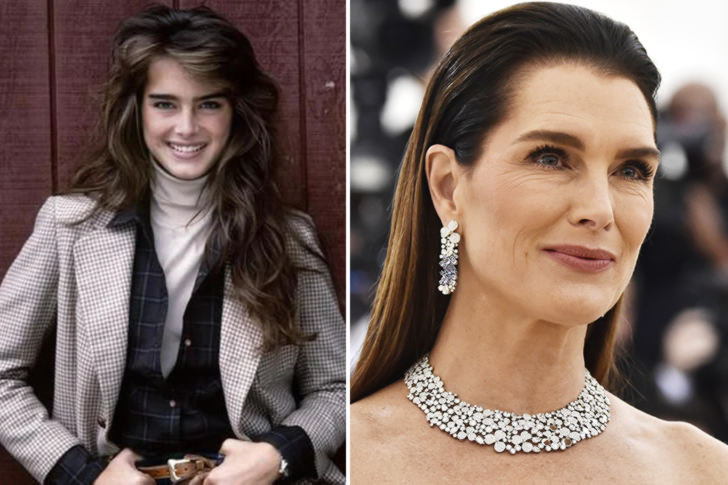 Actress and former child star, Brooke Shields, who gained prominence for starring in the film Pretty Baby at the age of 12, is another celebrity who seems to have discovered the fountain of youth. She was, to a huge degree, one of the hottest stars in the 80s and was on the cover of many magazines. She's among the actresses in Hollywood who eschewed plastic surgery and relied on natural beauty to get to where she is.
Brooke will always be considered as one of the prettiest faces of all time. Her enduring beauty was highlighted in some of her very first movies such as The Blue Lagoon and Endless Love. There was even a trend going on with the women all over America at the time, with many wanting to have Brooke Shields's eyebrows. In the hit show Friends, Brooke also made an appearance and though a bit more mature at the time, she still looked as radiant as ever. Her beauty investments are certainly paying off!
RAQUEL WELCH | 79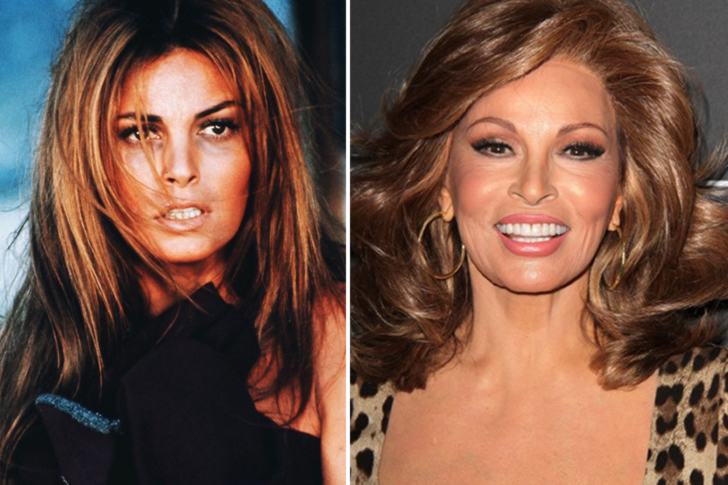 American actress and singer, Raquel Welch, who gained prominence in the 60s due to her starring role in the film Fantastic Voyage, was one of the popular female celebrities of the 60s and 80s. Of course, it is not hard to imagine why, given her preternatural good looks. Indeed, she's been flooring people with her beauty and had even won beauty pageants as a teenager!
Aside from her good looks, she is also known as a fashion trailblazer, further adding to her popularity. Many women tried to emulate her style, creating quite a trend during the 60s. Another thing associated with Raquel Welch is her near-perfect teeth. It won't be too surprising to learn that she is also said to have one of the most beautiful smiles in the industry. Consider it her trademark! If Brooke Shields has the ideal eyebrows, Raquel Welch has the teeth that many women, and even men, are envious of!
PHOEBE BELLE CATES | 56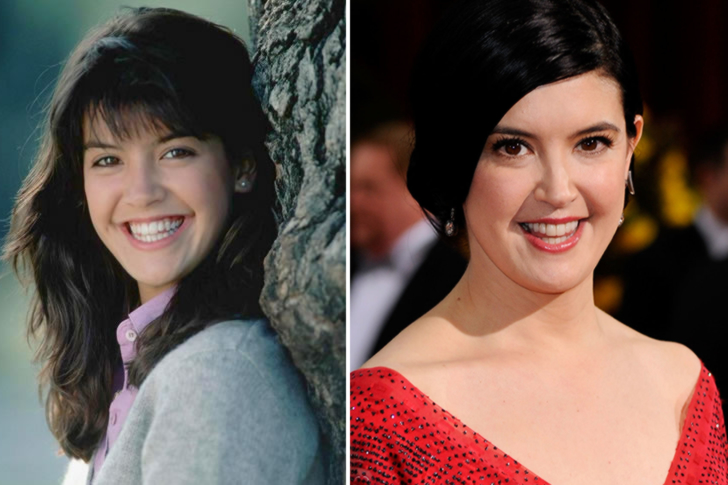 Actress and model Phoebe Cates was one of the biggest stars of the 80s. She received credit for a number of blockbuster films, the most notable of which is Fast Times at Ridgemont High. She was also the dream girl of many teenage boys, owing to her natural beauty. Cates was among the most bankable stars at the time. By the 90s, Cates was a certified Hollywood A-lister, but abruptly quit acting to raise a family.
Cates confessed in one interview that she didn't really like to act. Whatever the case may be, she'll always be remembered as one of the brightest stars in Hollywood during the 80s. People often wonder where Phoebe Belle is now, but she is living her advanced years in life gracefully and privately. Even now that she's a mom of two kids, she looks no less stunning. Her decision may have surprised many, but it's clear that quiet family life is just right for her.
HEATHER LOCKLEAR | 58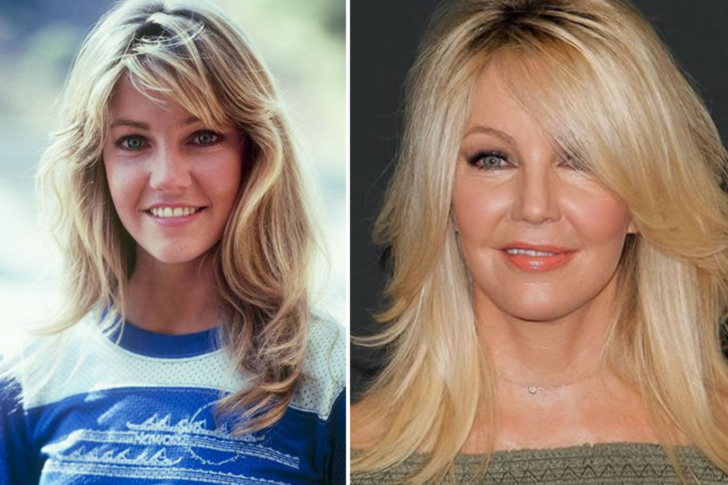 Actress Heather Locklear, who is best known for playing Amanda Woodward on Melrose Place, was seen as one of the most beautiful women at the time. This reputation stuck long after the hit television series had ended. Even at present and despite the fact that she has experienced some struggles in her personal life, no one can deny that her good looks still radiate. Age has done nothing to diminish it!
Heather's current relationship with her ex-husband proves that even when a couple is no longer together, they can still remain good friends. Friendship is a healthy and good foundation, some people who were not meant to be lovers are better off as good friends. This is perhaps one of Heather's secret to still looking young and flawless. She invested her time with the right people. She is living proof that even after difficulties, one can always choose to make changes for the better.
NICOLE KIDMAN | 52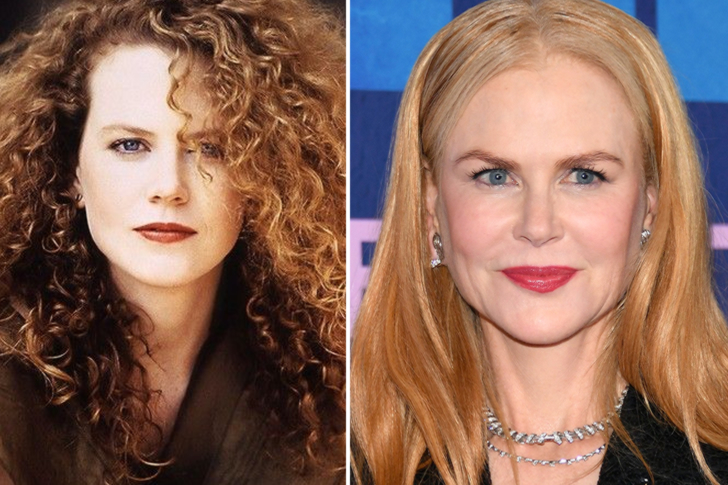 Multi-awarded actress and producer, Nicole Kidman, who is often ranked among the highest-paid actresses in the world, first started as an actress in Australia, then later transitioned into Hollywood with her debut film Days of Thunder. Today, she has north of a hundred movies to her name and has been working, practically nonstop, for close to three decades in Hollywood. But despite this, Kidman still has, to her credit, that porcelain glow, which makes her a fitting part of this list about timeless beauty.
She thanks "micro-decisions" like putting sunscreen protection and taking a lot of vitamins when necessary for her winning the war against aging, and while we're not sure how effective those are, what's certain is that she's doing something right. In an interview with Vogue 73 Questions, Nicole was at their Australian farm and she was all giggles, wearing a white dress which accents her young-looking skin, red hair, and slim figure even more. When asked what the best way for her to decompress is, Nicole quickly answered "to make love".
HALLE BERRY | 53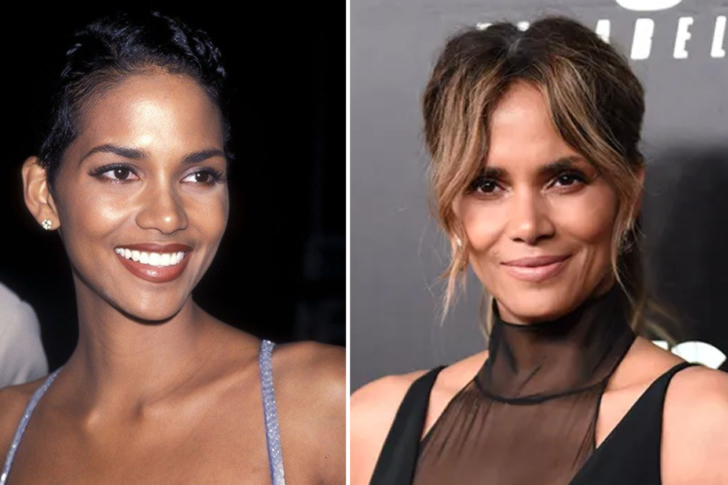 Actress Halle Berry, who earned the distinction of being the first African-American woman to win the Academy Award for Best Actress, is another celebrity who seems to age at a glacier's pace. When we saw her kicking butt in John Wick: Chapter 3, it looked like the actress was able to stop aging altogether. Thankfully, Berry was, through a few interviews, able to reveal what exactly she did that made her age so slow. Berry credits bone broth, cardio, avoidance of smoking and alcohol, and a dedication to her skincare routine, for her unnaturally young looks.
One of the most beautiful faces in the industry of movies, Halle is living proof that vampires exist, that we need to steal her time machine and many more theories! Kidding aside, she has aged like a fine wine, getting even more beautiful by the passing day. She has been an endorser and ambassador of many beauty products and the reason is obvious.
WINONA RYDER | 48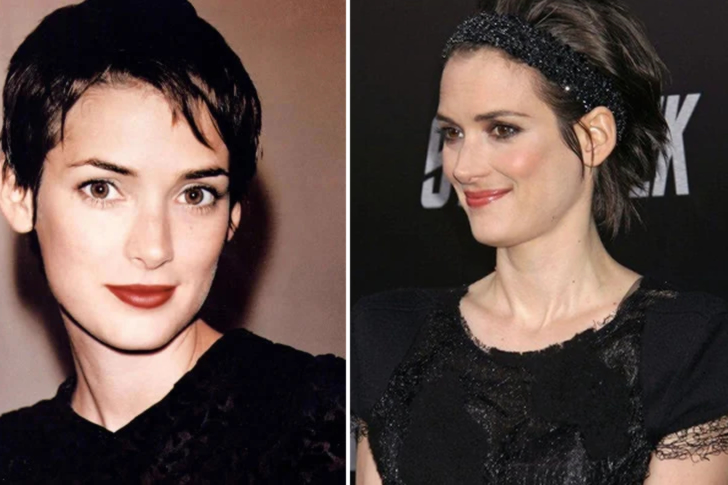 Actress and film producer, Winona Ryder, who came into prominence after debuting in the romantic comedy-drama Lucas, and later starring in the comedy-horror Beetlejuice, was once spoken about by designer Marc Jacobs as having had a 'pact with the devil'. The reason, of course, is because she seems to have stopped aging altogether. Ryder, however, has shared in several interviews that she enjoys getting older. Yes, we're scratching our heads about it, too.
Weirdly enough, when asked about how she was able to age so slowly, the actress said she gives credit to, of all things, a good night's sleep, sunscreen, and lip balm. Just like Jennifer Lopez's secret of drinking tons of water, Winona also has water to thank for her now even younger looks. Even alongside the teen actors of the show Stranger Things, Ryder's natural glow still stands out. It's no wonder that she gained a lot of new fans after her appearance in it!
KRISTIN DAVIS | 55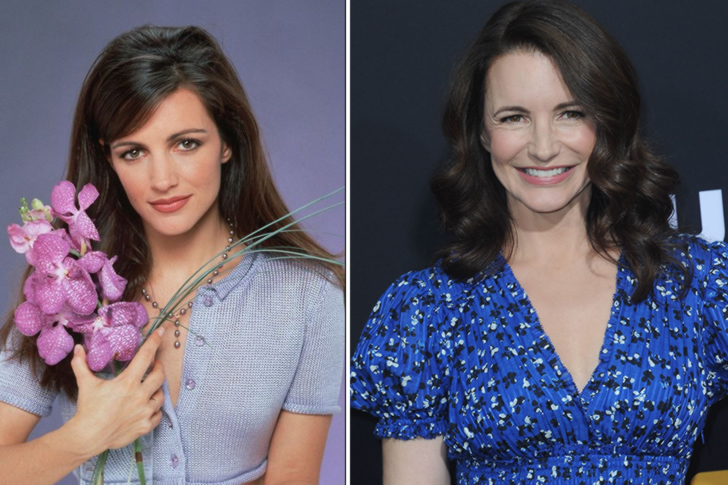 Actress Kristin Davis, who gained widespread recognition for playing Brooke Armstrong on the hit sitcom Melrose Place, and Charlotte Goldenblatt on the even bigger hit television series Sex and the City, is another timeless beauty who's been flooring everyone despite her age. When she was asked during one interview what she did to stay looking so young, she said it was confidence in herself, yoga, and being a sunscreen devotee. It looks like many of these stars swear by sunscreen, so there must be something to it.
Kristin's two kids must be so proud of their mother, but along comes the pressure. Kidding aside, she isn't just youthful in looks. Kristin is also well-known for being one very energetic mom. In fact, she even manages to take care of her children even while working! Worry-lines? None at all. Let's just say this level of beauty does not come without a dedication, maintenance, and good genes.
KELLY KILLOREN BENSIMON | 52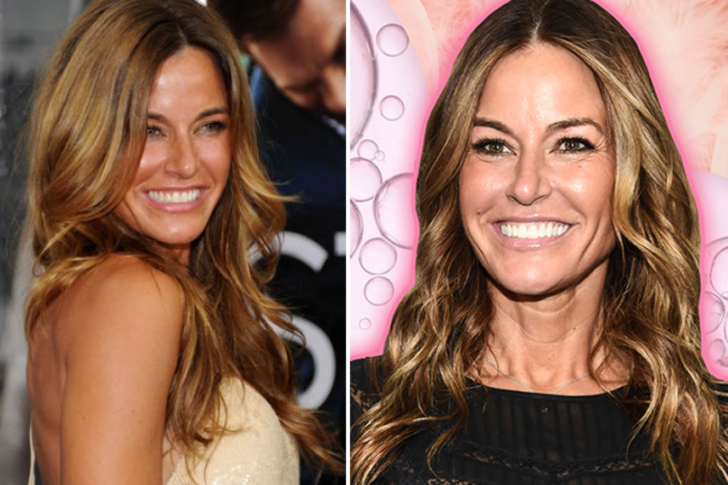 Author, socialite and editor, Kelly Bensimon, who gained wider prominence after appearing in the hit reality television series, The Real Housewives of New York City, has been flooring everyone with her unparalleled beauty ever since she was young. Indeed, as a model, she found herself on the front page of Elle, Harper's Bazaar, and other magazines. We have to say, the latest pictures of her online show her to be as beautiful as ever. We cannot help but wonder exactly what her secret is!
Her follower count on Instagram, where she regularly shares beauty and fashion tips, is also in the hundred thousands, which is testament to her rather timeless appeal. Kelly looks like she is still in her thirties or even twenties. Her skin care routine and beauty regime must be quite something for her to achieve this. At present, she still appears on TV shows, blogs, and interviews—maintaining her relevancy even among the new generation.
DIANE KEATON | 74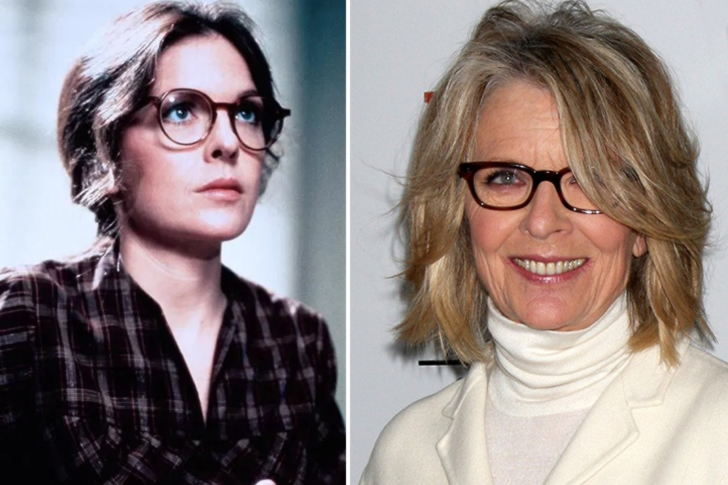 Multi-awarded veteran actress, director, producer and author, Diane Keaton, who gained prominence after playing Kay-Adams Corleone in Francis Ford Coppola's epic mob film, The Godfather, is definitely one of the most respected actresses in history. The length of her filmography page alone is testament to how prolific she is, and anyone who looks into her body of work will notice a long list of iconic names with whom she was able to work. She is, to a huge degree, an icon of cinema.
Anyone with an Instagram account knows that's she been making waves there too. Since starting, she has been able to amass a huge following—all in a span of just a few weeks. In an interview with Ellen DeGeneres, she said that she is having the time of her life, dancing, drinking wine with ice, laughing, and traveling. She is still beloved by many, both by fans and her colleagues. Despite her legend status, she remains humble, which makes her even more beautiful.
KELLY LEBROCK | 59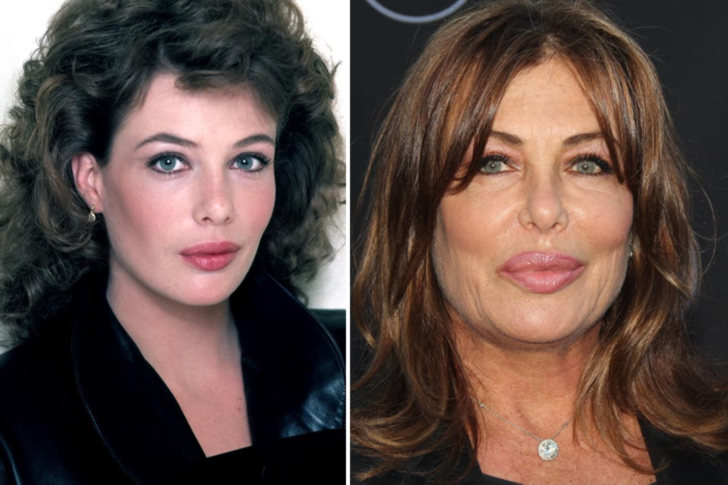 British-American actress and model, Kelly Lebrock, who gained greater prominence after the release of her debut film, The Woman in Red (where she co-starred with the legendary Gene Wilder), was widely regarded by many photographers during the 80s as one of the most beautiful women in the world. Indeed, her roles in film were always that of drop-dead, stunning women, who the leading men couldn't help but be all fidgety towards.
Now in her 60s, she has, to her credit, been able to change the perception of what beauty means, and how it can shine even during those golden years. Attitude is also one of the most important capitals when investing in looking younger. If one believes that they are beautiful, this also reflects in their appearance. Kelly was rumored to have gone under the knife, with many thinking she did something to her lips. However, as old photos and new ones show, the actress is a natural beauty.
BO DEREK | 63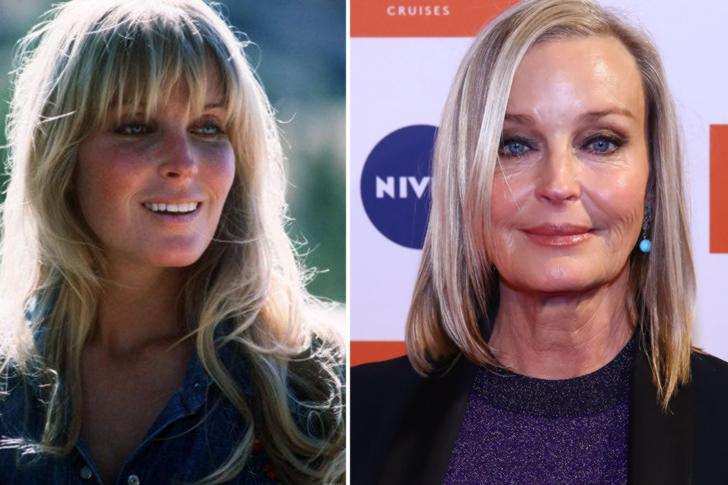 Actress, producer and model, Bo Derek, who older generations might remember for her breakout role in the film Tarzan, The Ape Man (which was released way back in 1981) is still, at 63 years of age, turning heads and flooring people wherever she goes. Indeed, braids were a thing in the early 80s primarily because Bo Derek was seen in them for one film. She was, by all accounts, a trendsetter during the decade. It might be better to say that's he remains a fashion icon, especially when some big stars of today, like Kim Kardashian have admittedly copied her style for one IG snap.
Her blue eyes and blonde hair certainly make for an attractive combination. She also puts a lot of time and investment toward taking good care of herself, proving to everyone beauty will never be limited by age. In fact, women simply get even more beautiful as they get older and Bo Derek is a testament to this fact.
CHERYL LADD | 68
Actress and singer, Cheryl Ladd, who many will know played Kris Munroe on the Charlie's Angels television series, once shared in one interview that she's happy to be in her 60s. Indeed, she's evidence that it's possible to age gracefully and just as possible to develop wrinkles and the lines while still remaining beautiful. When she was asked during the interview how she manages to stay beautiful as she ages, Ladd said that among other things, she embraced the here and now and made her health a priority. It sounds esoteric and perhaps unexpected for some, but to her credit, it certainly is working.
The right workout is always essential, especially as we pass the prime of our youth. There are exercises that will fit everybody. So, assess your current lifestyle and see if you can add healthier habits today that will benefit you in the future.
GOLDIE HAWN | 74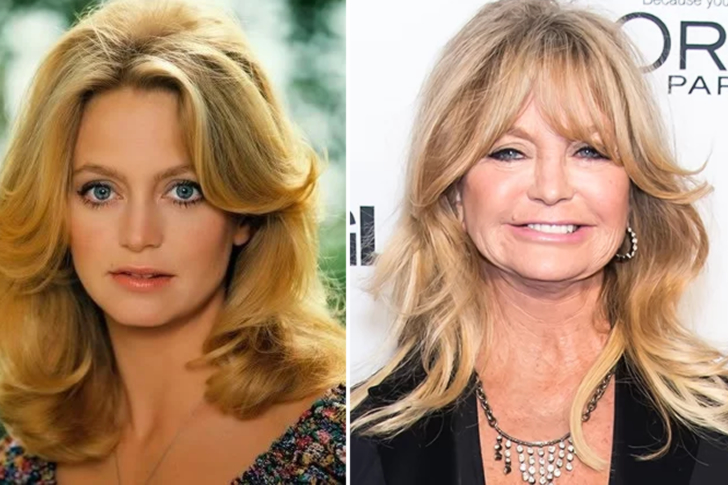 Actress, producer and singer, Goldie Hawn, gained prominence after her role in the film Cactus, a film for which she was awarded the Academy Award and Golden Globe for best actress. She was interviewed by People Magazine recently and she revealed that, to a huge degree, what makes her feel beautiful is her longtime partner Kurt Russell. The couple have been together for 37 years and a relationship like theirs is a rarity nowadays, especially in Hollywood. Kate Hudson, who was with Hawn for the interview, even said that having a relationship like her mom and dad's is her life goal.
Goldie, at the age of 74, still has one of the classiest screen presences and her fitness is still enviable. When asked about her thoughts on marriage, Goldie responded with, "Not all people have the same perspective on that, love is what matters, love, strength and everlasting commitment." This is probably why Goldie is glowing with love and warmth.
JENNIFER GARNER | 48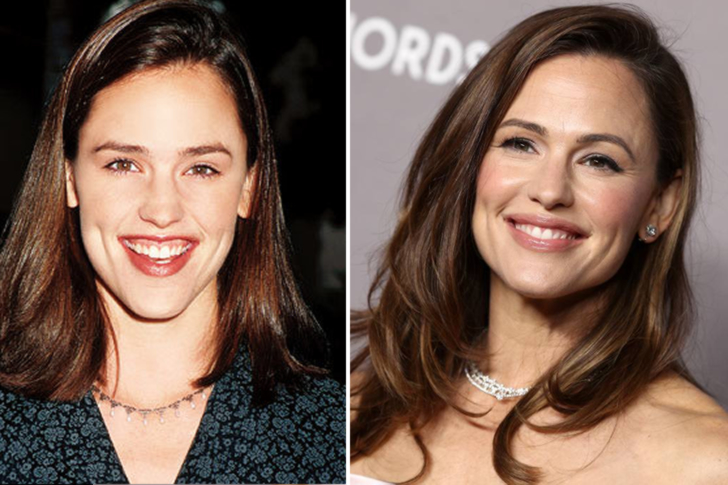 Jennifer Garner is an actress, activist and entrepreneur, who rose to prominence following her involvement with the film Pearl Harbor. She was also crowned Most Beautiful Person by People.com just this 2019. Garner was, to her credit, rather bemused by the award, and said she doesn't understand why she was chosen since she never really saw herself as attractive, further saying that growing up, she wasn't "one of the pretty girls." Well, we beg to disagree—she totally deserves it, for being beautiful inside and out. She's a leading lady in Hollywood and also an ambassador for Save the Children!
Jennifer's most iconic role, and we are speaking in behalf of the majority, is the classic 13 Going On 30. Just like this film, Jennifer never gets old, in fact, she gains more finesse every single time she appears on television. We guess this is what happens when someone radiates kindness and goodness of heart—their entire being becomes attractive.
MARY STEENBURGEN | 67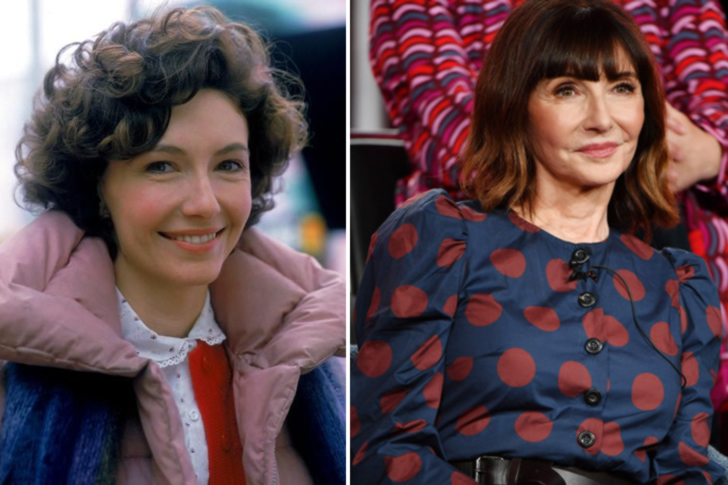 Multi-awarded actress, singer and songwriter, Mary Steenburgen, is another timeless beauty who's been flooring everyone with her looks since debut. In one interview, she shared that her husband Ted Danson keeps the romance alive by giving her compliments on a daily basis. The couple had been married for 24 years, and we can all learn a thing or two from how they take care of their relationship. Steenburgen also amusingly shared that in her experience, it was when she got older that people started paying more attention. She goes on to say that she was "fine looking" when she was younger, but started getting more compliments as she got older!
Her most recent project is the film Book Club, in which she appeared alongside other huge stars like Jane Fonda, Candace Bergen, and Diane Keaton. The movie follows the story of different women of a certain age, who are still doing their best to maintain an active life. In the film, she even did a dance number to showcase her unwavering talent.
JULIANNA MARGULIES | 53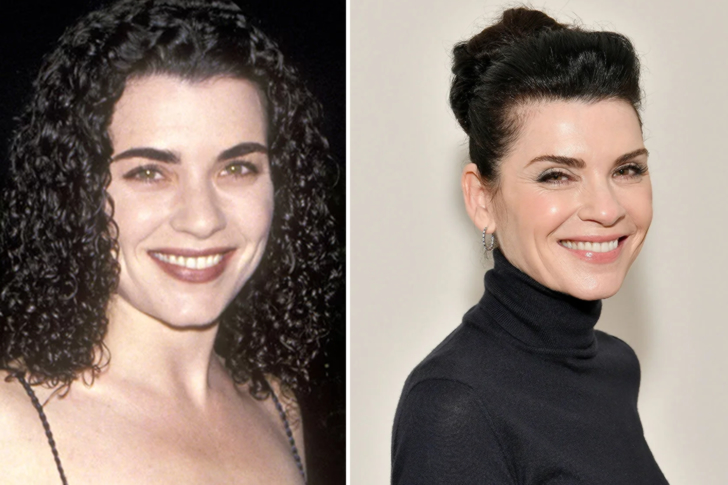 Actress and producer Julianna Margulies, who is better known to people as the actress who portrayed Carol Hathaway on ER (a role she received an Emmy for) and Alicia Floririck on The Good Wife, was interviewed a few years ago about the beauty secrets she lived by. One notable thing she said was that she constantly tries to stay out of the sun. What is it about sunscreen and women over 40? Whatever it is, it can't be denied that Margulies seems to have cheated aging to a degree that is flat out unbelievable.
Perhaps this is also one of her secret superpowers? Kidding aside, we all know that Julianna is a multi-award winning actress and she has been nominated for various roles with thanks to her amazing performances both in television and in film. However, she should also be given a nomination for being one of Hollywood's enduring beauties.
HELENA CHRISTENSEN | 51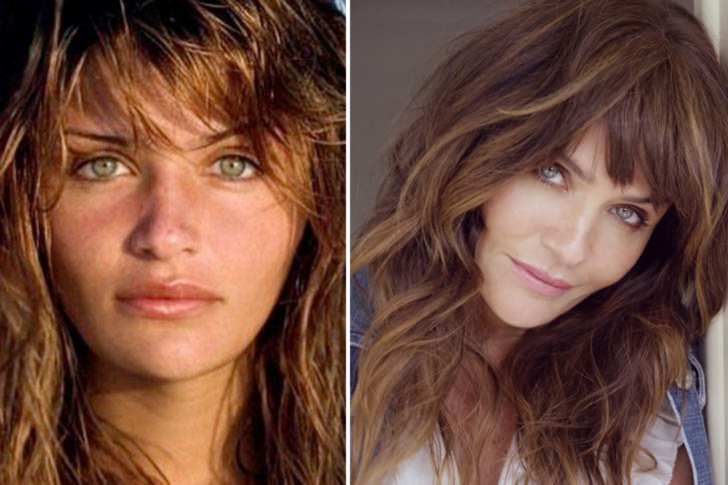 Supermodel and photographer, Helena Christensen, first gained greater recognition after appearing as a Victoria Secret's Angel. She walked the runway alongside other industry heavyweights like Naomi Campbell, Cindy Crawford, Elle Macpherson and Claudia Schiffer. Christensen once shared in an interview how she's able to keep herself in tiptop shape. She said that, first and foremost, she makes sure to get enough sleep—an investment in sleep, Christensen says, is the most important thing. She also said she does boxing, pole dancing and Yoga as a form of exercise.
As someone who has worked in the beauty industry for years, we certainly trust her advice about this. We are all aware of the pressures that comes with being a model and using your looks as a primary career investment. So Christensen's advice must have come from experience and based upon how she looks at 50-something, we can't argue with the fact that it is effective!
NANCY MCKEON | 54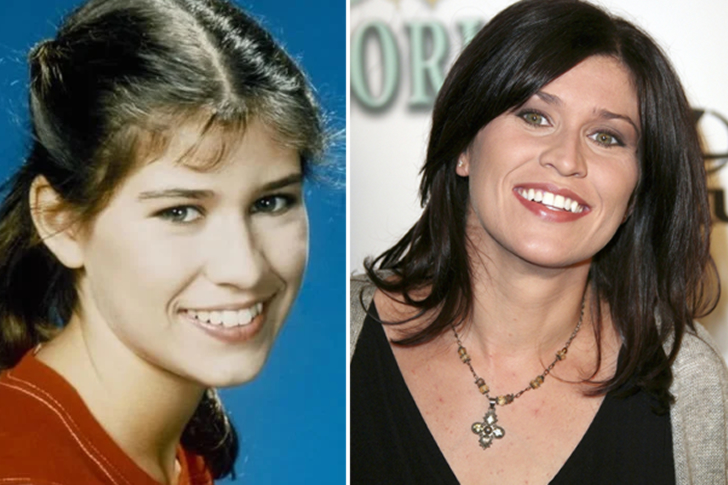 Actress Nancy Justine Mckeon, who many will remember for portraying Jo Polniaczek on the hit television sitcom Facts of Life, apparently also auditioned for the role of Monica Geller on Friends. Of course, the role would eventually be given to Courtney Cox, but it's interesting to think about how different the character might have turned out had it been played by Mckeon. She's landed more than a few roles on television since then, but hasn't been able to transition to film, which is why she's not as well-known as the rest on this list. But, to her credit, she's managed to look younger than she actually is, and we're certainly not the only ones who've noticed.
Just like Courtney Cox, Nancy is a brunette beauty with fair skin and great fashion sense. We might never really know what the secret behind her youthful looks is, but we can guess that it also has something to do with her lifestyle.
JAMI GERTZ | 54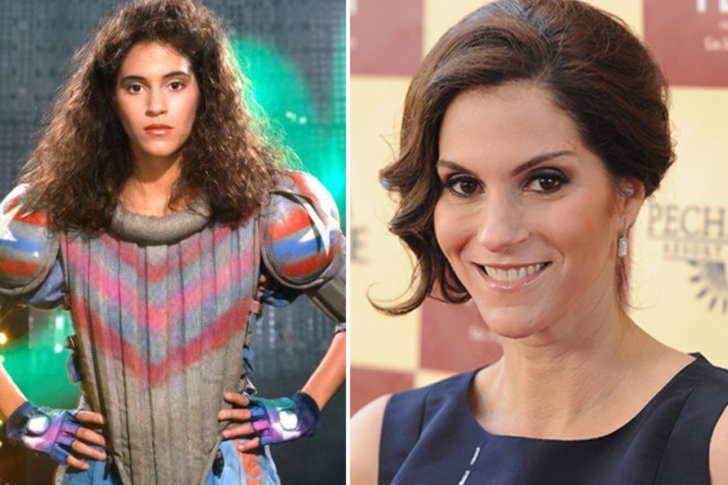 Actress, investor, and billionaire, Jami Gertz, who many might remember for having starred in films like The Lost Boys, Less Than Zero and Twister, is practically retired from acting. Who can blame her? She's now a rich businesswoman who owns part of the Atlanta Hawks, after all. Gertz is not just a part-owner who takes a backseat when it comes to managing the team, however, because she also reportedly takes an active role. At one point, even becoming its public face. We're guessing that remaining proactive in her corporate duties is, to Gertz's credit, one way she's managing to stay in tip-top shape.
It has always been said that staying active, even in our golden years, is the key secret to staying youthful—physically and mentally. While she may not be appearing in films anymore, it's clear that she has a knack for business and has also managed her finances well. A true role model, in our opinion.
EVA LONGORIA | 45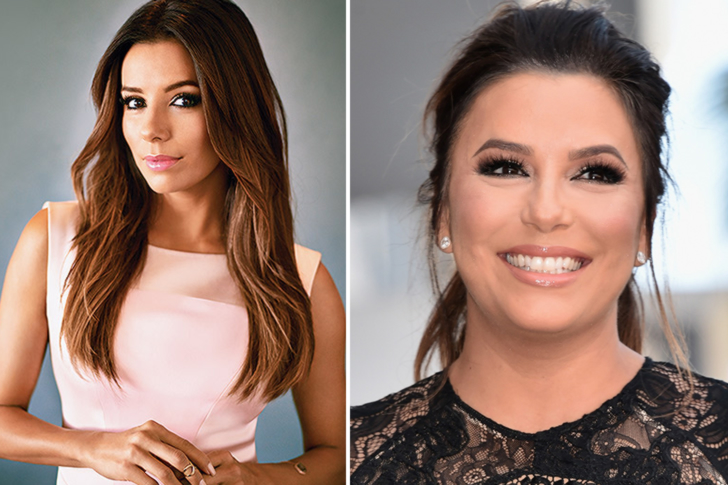 Actress, producer, activist, and businesswoman, Eva Longoria, who gained prominence after portraying Isabella Braña on the hit television soap opera, The Young and the Restless, is one woman who's got all the goods. Her skin is perfect, her hair is flawless, and she's aging thing gracefully. Shall we get a little cliché and say, she's aging like fine wine? When she was asked what her trick was to look younger, she said many think its makeup, but the secret is in her skincare.
She says that too much makeup makes one look older rather than younger. Longoria even used the interview as an opportunity to plug a sunscreen product, which she gives credit to and has been using since her Desperate Housewives days. Longoria also invests most of her savings in her passion for food and cooking. Having such enjoyable hobbies can certainly help anyone maintain their youthfulness. The more active we stay, the fitter we will get in mind and body. The actress is proof that!
PORTIA DE ROSSI | 47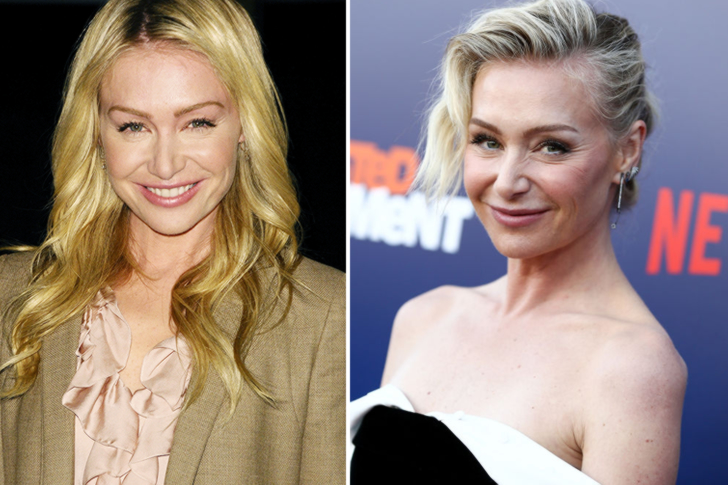 Actress, model, and philanthropist Portia de Rossi, who many will remember for playing Nelle Porter in the hit television series Ally McBeal, is another celebrity who seems to have been blessed with age-defying powers. Indeed, she is frequently photographed strolling around Manhattan with her wife Ellen DeGeneres in a stylish ensemble that's reminiscent of her more youthful Ally McBeal days. We'd also definitely recommend that people follow this couple's Instagram—they're equal parts hilarious and sweet. In any case, De Rossi, to her credit, is proof that one can be stylish and trendy at any age.
At an Oscar awards backstage, when her wife was the host, Portia was photographed beside Ellen wearing a gorgeous gown looking as chic and fabulous as ever. Aside from maintaining a pretty face, Portia is also good in taking care of her marriage. The couple are now celebrating more than a decade of marriage.
URSULA ANDRESS | 84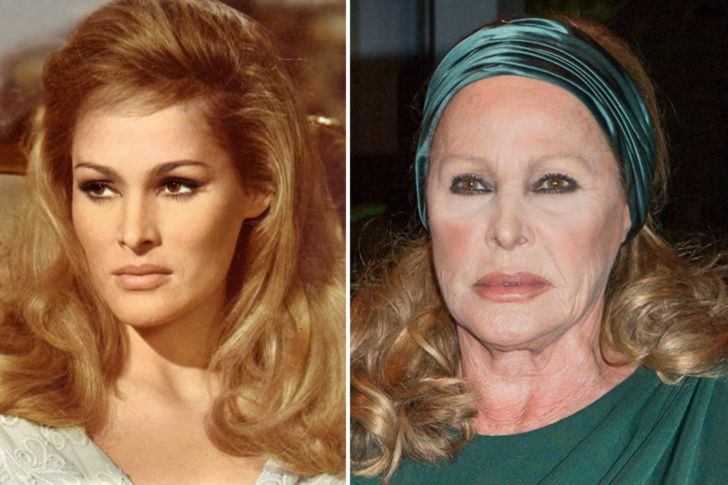 Television actress and former model Ursula Andress, who older generations will remember as one of the most popular first Bond girls, used to be a femme fatale on par with Raquel Welch. Andress was, and will always be, remembered as the archetypal Bond girl, who was strikingly beautiful, innocent, and dangerous all at the same time. Not only was Andress impossibly good-looking, but she was also, to her credit, highly intelligent, and in fact spoke five languages fluently. Indeed, there have been many Bond girls to date, but Andress was definitely a rare gem among them.
Andress is also one of the very few women in industry who, even though she no longer appears in new projects, will always remain an icon. This is something few people can achieve. After all, there have been actors and actresses who simply fade into obscurity after one successful role. Maintaining one's relevance and status is hard-earned. Andress has definitely earned hers.
LUCY LAWLESS | 52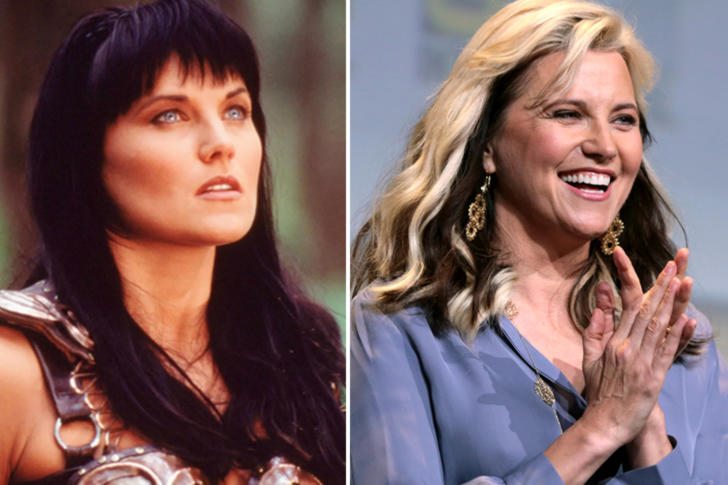 Actress, singer, and philosophy fangirl (she admitted this much!) Lucy Frances Lawless, who many will remember for portraying Xena in the moderately successful television series, Xena: Warrior Princess, is an Amazon goddess both in reality and onscreen. Indeed, she's also been included in People Magazine's list of 50 Most Beautiful in the World. Let's not forget that she's also been flooring everyone with her drop-dead beauty as Lucretia in the television series Spartacus. It looks like she always plays the quintessential badass, and for a good reason.
How she's able to cheat aging, we, unfortunately, cannot tell, but whatever she's doing, it is definitely working. If we add the letter F to Lawless it would become "flawless", which is definitely the one word we use if we have to choose in the English dictionary to describe the actress. Cheesiness aside, Lawless is not just admired for her beauty. She is also a role model to many because of her unwavering passion and because she represents the strength women innately have.
LISA WHELCHEL | 56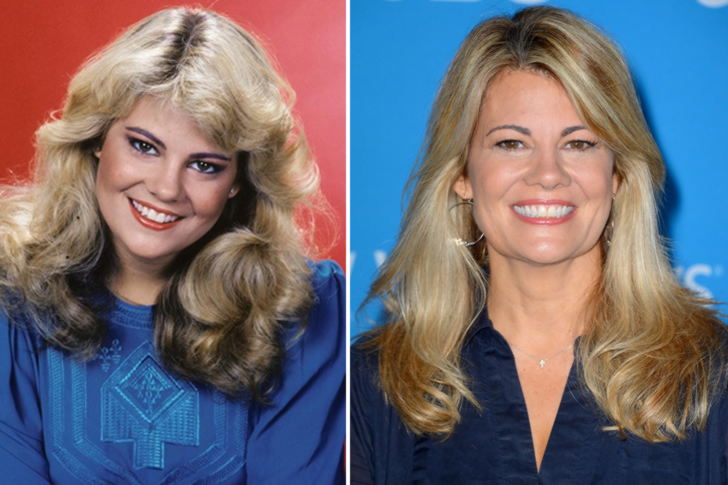 Actress, singer, author, and public speaker Lisa Welchel, who many might remember as the preppy Blair Warner in the hit television series The Facts of Life, joined the reality show Survivor and won the runner-up spot. Of course, that single piece of information has nothing to do with how she's able to maintain her beauty at the age of 56, but it does tell us she has a pretty active lifestyle. Indeed, we checked everywhere, and all we see is an article where she gives credit to her young looks to great genes and lip balm.
Lip balm is a very healthy trick to keeping our lips from becoming dry, which can be unsightly—not to mention, painful. Some even come with sunscreen, which helps protect the skin of our lips from aging, too. While not all of us would be blessed with the same genes that Welchel has, we can give Mother Nature a bit of help by taking care of our skin and health better.
MOLLY RINGWALD | 52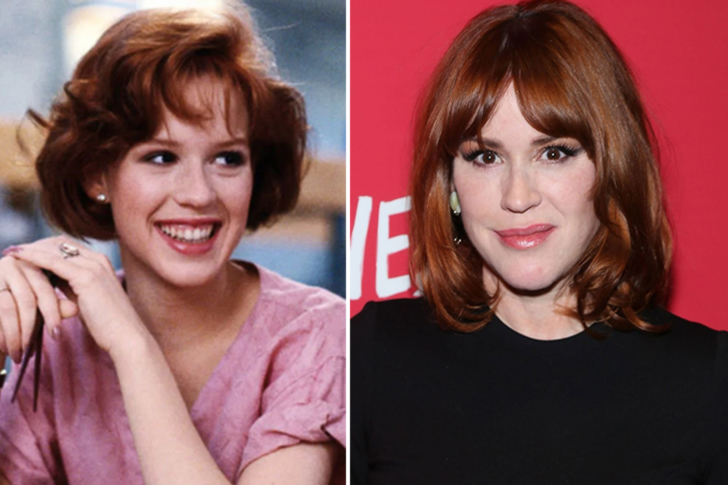 Actress, singer, and author Molly Ringwald, who was dubbed the 80's 'Screen Queen' in no small part because of her starring roles in highly successful coming-of-age films at the time (films like Sixteen Candles, The Breakfast Club, and Pretty in Pink), said that contrary to what people think—and contrary to what she used to think—she absolutely loves her freckles. True, she used to max out her credit card on makeup to cover them up, but now she's has accepted them as part of her charm.
One thing Ringwald said she frequently does that might have helped her keep the wrinkles away is giving her skin regular breaks from makeup. She no longer needs to cover up because freckles are far more appreciated now, it even became so trendy that young people would either draw them on or get them tattooed on their faces! Today's generation can certainly learn a thing or two from the actresses on our list, especially when it comes to keeping it natural.
CATHERINE BACH | 66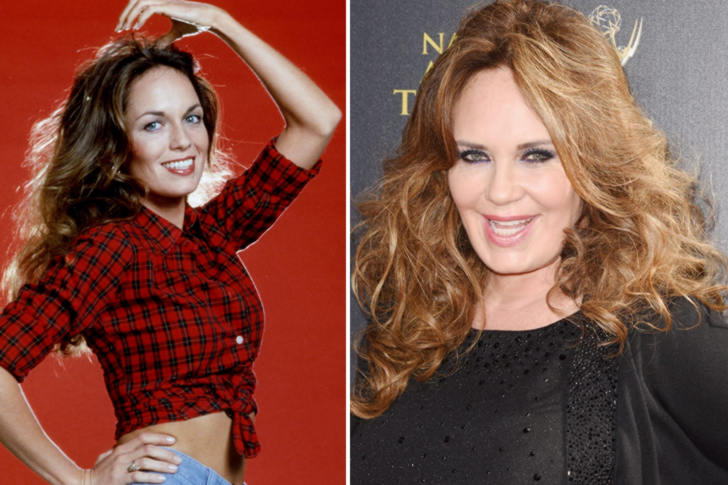 American actress, Catherine Bach, popularly known as the original Daisy Duke in the television series The Dukes of Hazzard and as Anita Lawson in The Young and the Restless, is another celebrity whose posters were no doubt hung in every teenage boy's room during the '70s and early '80s. After all, during her heyday, she was one of the most bankable and recognizable stars in Hollywood; so much, in fact, that her legs were insured for $1 million. The producers of the film purchased an insurance policy for her legs while filming for Dukes of Hazzard was ongoing.
This isn't exactly uncommon among celebrities today. While this might be the case, very few can achieve the same level of popularity Bach had during her prime. She was an IT girl, so to speak, and was also on the cover of many big magazines at the time. The best bit? She looks no different from how she used to—in fact, we argue that she's only gotten prettier with age.
GEENA DAVIS | 64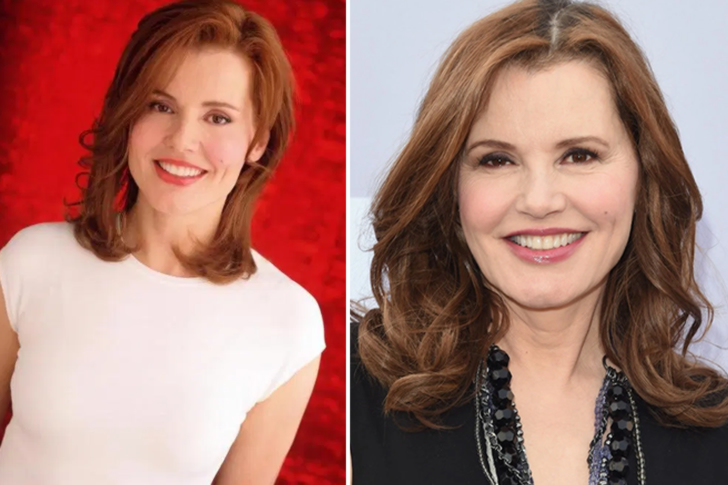 Multi-awarded actress and activist Geena Davis, whose acting prowess gained wider recognition after her portrayal of Thelma in the comedy road film, Thelma and Louise, looked amazing in a black dress at the 2020 Oscars. At 64 years old, but we could have sworn she was merely in her 40s during the event. It wouldn't have been the first time she's managed to leave us in awe with her beauty, however. Since her debut in the industry, Davis has always been one of the most admired actresses in Hollywood for both talent and looks.
Back then, when someone is very handsome, he is usually referred to as a male version of Geena Davis. This means exactly what it means – that Geena is one of the standards when it comes to attractiveness. The same applies when it comes to her versatility as an actress, too. Even today, she never ceases to garner much praise for every performance she gives. She even has the trophies to prove this point.
  ANDIE MACDOWELL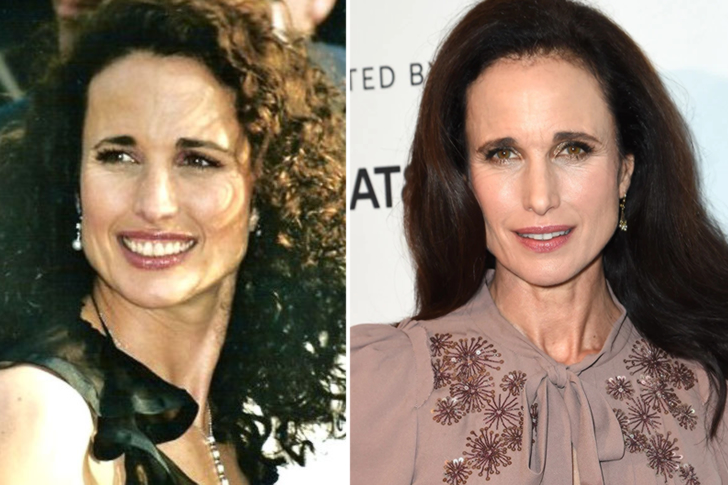 Actress and former model, Andie Macdowell, who gained further popularity after her critically acclaimed role in the film Sex, Lies, and Videotape. The veteran actress, who we personally think has one of the best smiles, hasn't aged much since then. While MacDowell certainly has beauty tips and tricks worth knowing about, she said it's inner beauty that people should focus on, which will manifest on the outside given time. Which was why when she was asked how she kept so fit, she emphasized yoga and healthy living as among the reasons.
Indeed, to her credit, she always speaks about the beauty myth and how she wants to debunk is the notion that one must be young to be beautiful. We completely support her when it comes to this as age should never diminish one's beauty. In fact, with it comes wisdom and incomparable confidence that makes people even more attractive.
MEG RYAN | 57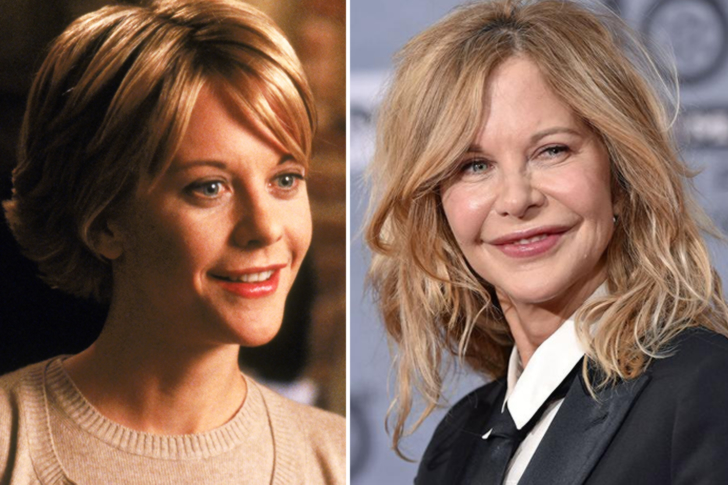 Actress and producer, Meg Ryan, who was catapulted to stardom for her role in the hit romantic comedy, When Harry Met Sally, unfortunately, jumped the gun and got plastic surgery. We were bummed about it, too, since we think she looked just fine without it. Indeed, the internet exploded when the first post-surgery pictures of her came out because many thought she was completely unrecognizable. Whatever the case may be, we give her credit for taking all that in stride.
Of course, we still think she looks gorgeous and is fully deserving to be on this list! Either way, we would love to encourage the appreciation of beauty in all its shapes and sizes. Ryan may have opted for procedures to enhance her looks, but that doesn't mean she is any less of a person. Her acting skills are definitely one of the best things about her, aside from her pretty face.
CHRISTIE BRINKLEY | 66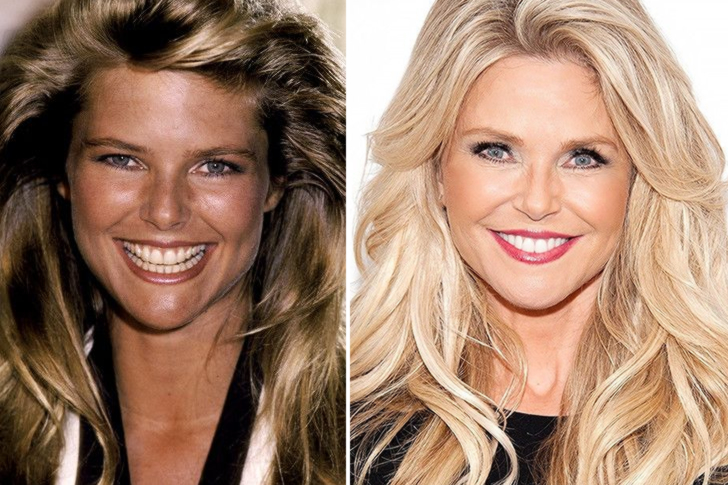 Model, entrepreneur, and occasional actress, Christie Brinkley, who, like other fashion industry heavyweights, gained wider recognition after appearing on the front cover of Sports Illustrated Swimsuit Issue, is another celebrity who, to a huge degree, defied the laws of physics by aging at a snail's pace. Indeed, Brinkley is now 66 but can pass for someone decades younger.
When she was asked what her secret was to remaining so young-looking, Brinkley mentioned that she exfoliated her skin every morning, and then proceeded to talk about a skincare product she was clearly paid to plug. In any case, Brinkley also mentioned that she limits herself to plant-based food, so this could also explain why she's maintained her youthful glow. Being healthy certainly beats any superficial treatment or procedure. When your body is doing great from the inside, then the glow trickles to the outside, too. Let's take it from Brinkley – eat healthy so you can age gracefully.
JODIE FOSTER | 57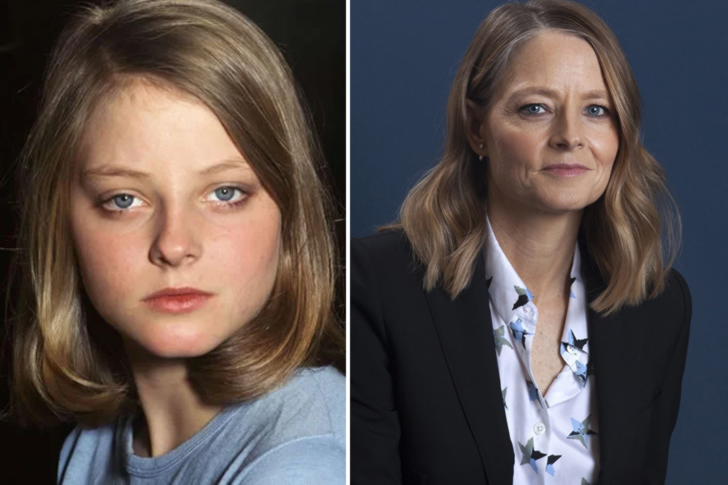 Multi-awarded actress, producer, and director, Jodie Foster, who gained widespread recognition for her role in Martin Scorsese's neo-noir psychological drama film, Taxi, remains, to this day, one of Hollywood's most eminent beauties. The degree to which her name belongs in a list like this is certainly not in question. The question, of course, is how she's managed to stay in tiptop condition?
We've searched online and all we could find was a bunch of websites attributing her beauty to platitudes like diet and exercise. It doesn't seem like Foster wants to talk about how she's been able to maintain her porcelain skin, so we'll just have to chalk it up to good genes. Of course, it seems like she has been taking great care of her body, so it all adds up, too. Being fit and healthy undoubtedly contributes to her looking fabulous at her age. Since she needs to be in front of the camera a lot, she really had to maintain her looks.
RENE RUSSO | 66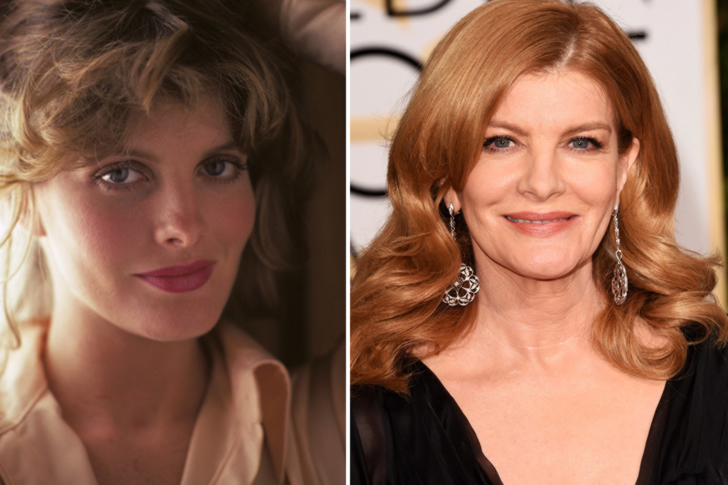 Actress, producer, and model, Rene Russo, who started out as a model and transitioned into film, gaining widespread recognition for her role in the Lethal Weapon films of the 90s, quite happily admitted that she gets laser treatments and botox to combat the effects of aging. In fact, we were surprised that she had no qualms about admitting to getting these procedures, and we definitely think they're nothing to be ashamed about.
The treatments seem to work for her, at least, since she seems to look younger than her age. We have to give Russo credit, though, for being unbelievably shapely and toned. Even at her age, she can pass for someone much younger, and can even compete with younger celebrities. The discipline and dedication she has for her body are truly impressive. If only the rest of us can follow her ways — we would be in great shape as well!
PENÉLOPE CRUZ | 46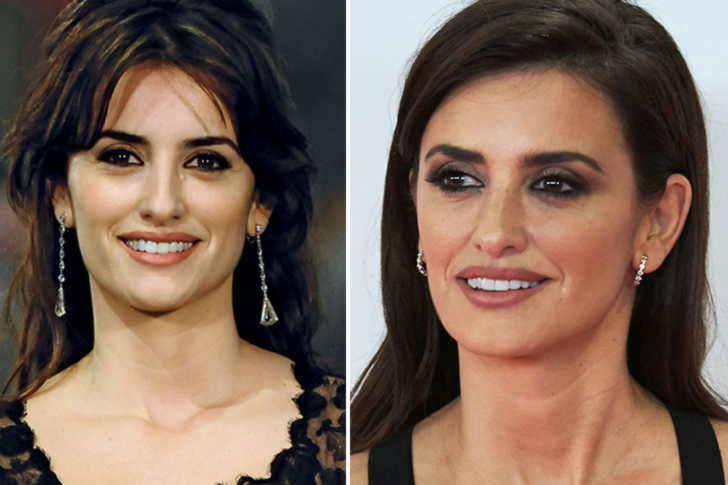 Spanish actress and model, Penélope Cruz, whose roles in the films Belle Epoque, Open Your Eyes and Vanilla Sky established her as one of Hollywood's premiere leading ladies, mentioned for a Vogue interview that she's been talking about beauty for as long as she can remember. Well, the fact that she's so beautiful probably has something to do with it—as well as the fact that she's the face of French luxury cosmetic house, Lancôme.
In fact, she plugs some of Lancôme's products in the very Vogue article where she was asked to talk about beauty. But, to a huge degree, Cruz said that she's an advocate for supplements, which she was introduced to by Gwyneth Paltrow, and which she claims has helped her maintain her health. Knowing what to take to preserve her youth and her overall fitness is a great way to stay in shape and limelight. It helped her get rid of any unwanted condition or signs of aging as well.
MICHELLE PFEIFFER | 62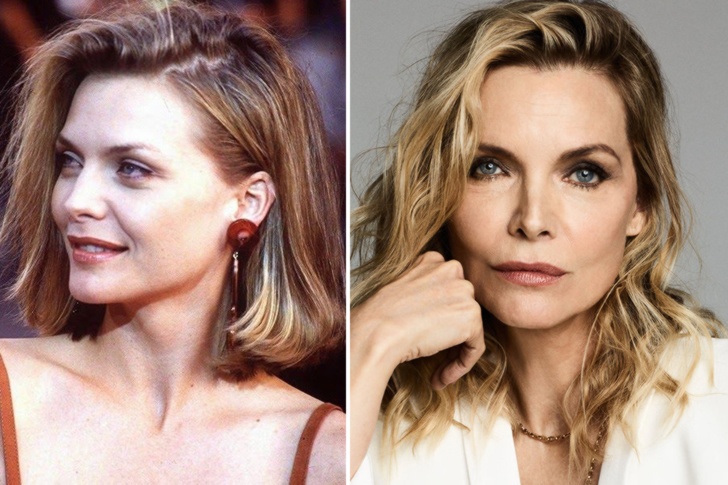 Multi-awarded actress and producer, Michelle Pfeiffer, whose breakout role was that of Elvira Hancock in the Brian De Palma Mob drama, Scarface, wowed everyone when she posted an all-natural, unfiltered, makeup-free photo of herself on social media. We say 'wowed' because Pfeiffer, to her credit, looked absolutely stunning, despite being make-up free. One of her followers even said that Pfeiffer made her look forward to aging.
While we won't go so far as to say that, what's certain is that Pfeiffer truly deserves to be in the ranks of the other celebrities featured here, in that she is, without a doubt, a timeless beauty. Even at her age today, Michelle is still hailed as one of the most beautiful faces in Hollywood. It is for this reason that she still gets cast in big movies up until now. Of course, other than her beautiful face, she has great talent at acting.
CHRISTY TURLINGTON | 51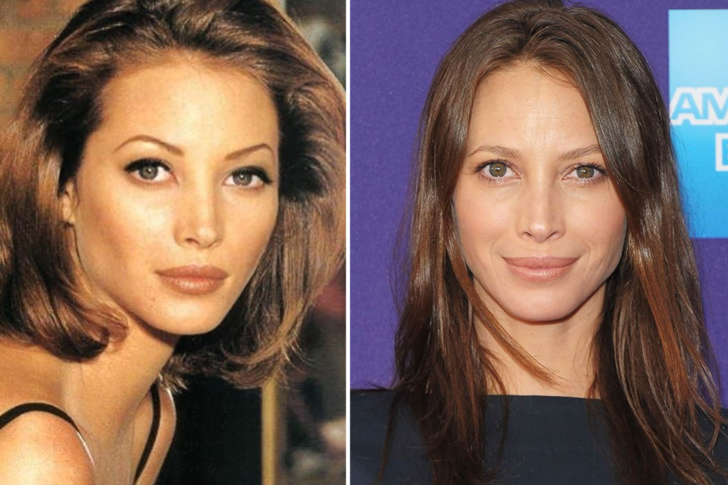 Model and filmmaker, Christy Turlington, one of the top models of the 80s and 90s who had been included in so many Best of the Best lists that it will be difficult to name them all, is, without a doubt, one of the most impressive women in the world. From being the face of high-profile brands to founding charities all over the world, this woman deserves credit for having done it all.
When she was asked how she's able to look so young for one interview, Turlington said it's a combination of good genes and constant skin cleansing and washing. She probably doesn't leave her makeup on when she goes to bed at night. All the beauty gurus say that doing so is a sure-fire way to ruin one's face. Cleansing certainly works to ensure that one's face remains clean, so any buildup of gunk that leads to acne and signs of aging can be avoided.
CHARLOTTE ROSS | 51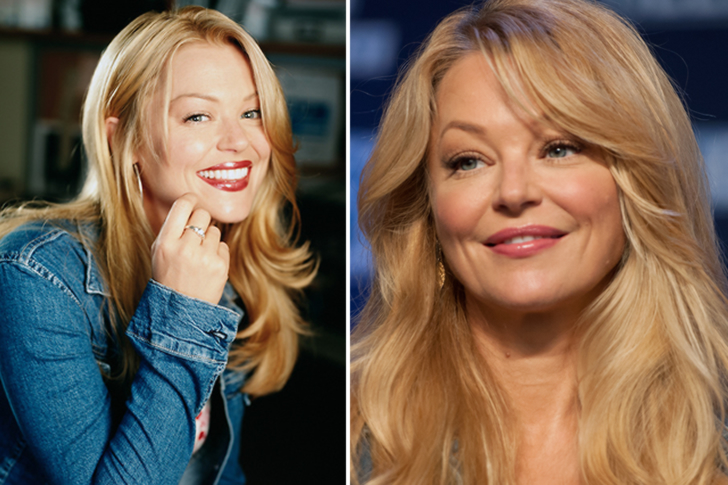 American actress Charlotte Ross, who many will be familiar with for playing Eve Donovan in the longtime-running soap opera Days of Our Lives, and for playing Connie McDowell in the drama series NYPD Blue, is another blonde bombshell who, to her credit, makes age seem like just another number. When she was asked how her style has evolved over the years, she mentioned that she always tried to dress the way she thought was good, and avoided dressing as if she was decades younger.
She also mentioned in a previous interview that she's a fitness fanatic, which explains how she keeps herself so shapely and toned. Although maintaining one's figure is impressive, especially for someone of Charlotte Ross's age, it also entails a lot of hard work. This makes her look not only great but also feel great from the inside. Surely, being healthy contributes a lot to being beautiful.
MERYL STREEP | 69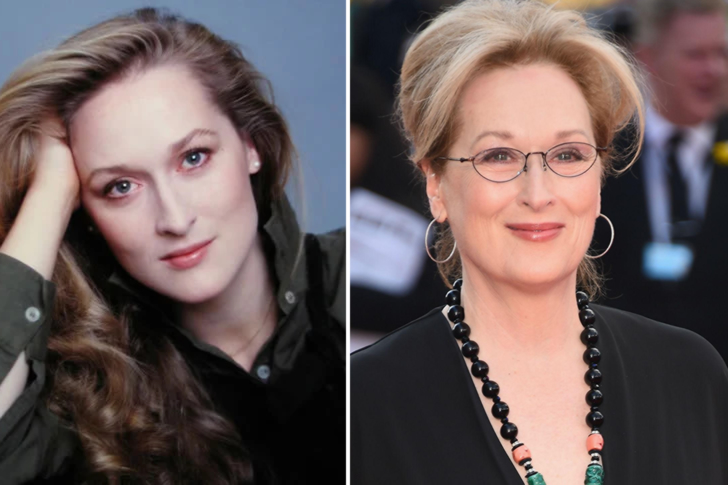 Multi-awarded actress, Meryl Streep, who is no doubt one of the best actresses in the history of Hollywood, said for an interview that she once feared aging, and at one point thought that each movie would be her last. But she couldn't have been more wrong; indeed, after getting nominated 19 times for an Academy Award, the actress doesn't even seem to be slowing down. Streep was once even compared to a Chanel jacket, which increases in value as it gets older.
And we can't help but agree, because, after all these years of seeing her on screen, we think she still is, to her credit, a sight to behold. Her acting resume is definitely one of the more impressive ones among the women – and men – of Hollywood. Her timeless beauty, however, is also something else that makes her stand out. Put two of these together and you have yourself an unbeatable combo!
GWEN STEFANI | 50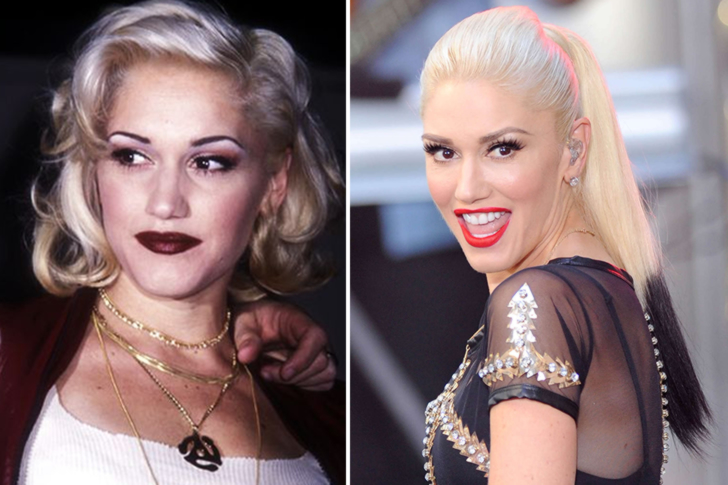 Singer, songwriter, actress and producer, Gwen Stefani, who gained prominence as the lead singer for the highly successful rock band, No Doubt, is already 50, but can certainly pass for someone decades younger. Indeed, she makes being 50 looks like 30, which was exactly how one magazine described the singing sensation who doesn't merely have the face of a goddess, but the body of one, too. Stefani even shared that she doesn't buy expensive makeup, and often goes for drugstore bought ones because she claims they work just as well.
While we don't know if we agree with that sentiment, Stefani certainly deserves credit for inspiring others to remain fearless in the face of aging. She doesn't look her age at all. In fact, she can perform like the younger singers and performers of today. We're eager to try out her affordable makeup recommendations, though, because upon seeing her face, we can be certain that she knows what she's talking about!
LUCY LIU | 51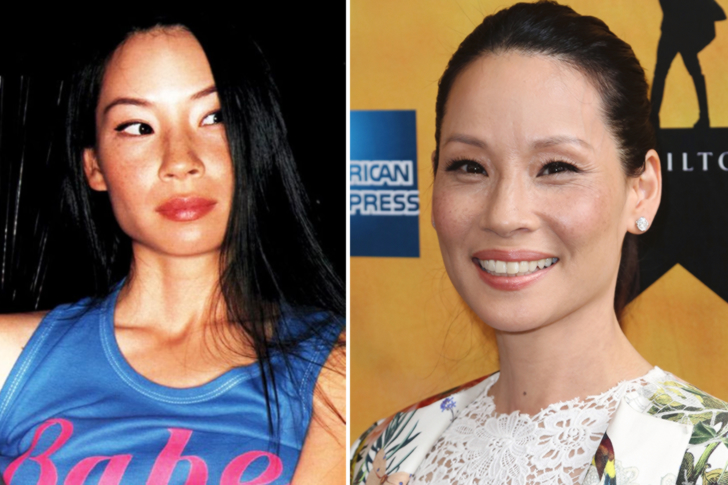 Asian-American actress, Lucy Liu, who gained widespread recognition for playing Ling Woo in the highly successful television series, Ally McBeal, is totally deserving of being hailed as an example of timeless beauty. The degree to which her flawless skin appears no different from how they were when she first burst onto the screen is nothing short of amazing. When she was asked how she is able to look so young, she said she tries to avoid the sun by either applying sunscreen or wearing a hat and handkerchief.
While we doubt it's that simple for Liu, we're thinking there really must be something to sunscreen, as many on this list swear by it. All the experts say that the sun is really harsh on the skin and that its rays are among the most common causes of premature aging. If it worked for Liu, then it should work for the rest of us too!
KYLIE MINOGUE | 52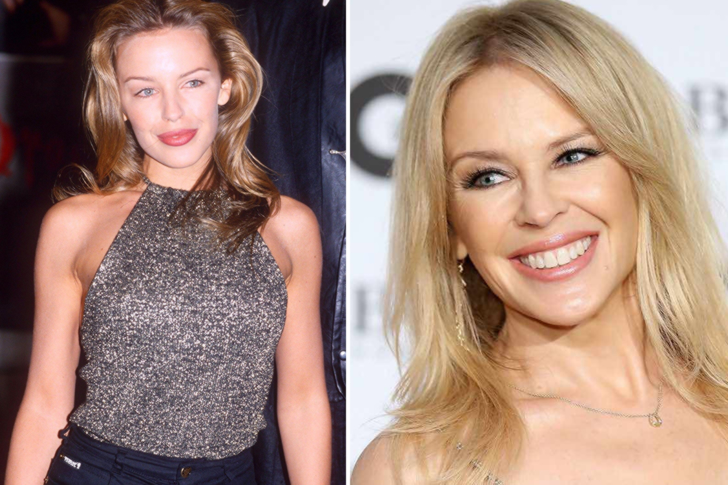 Singer, songwriter and actress, Kylie Minogue, who has at one point been dubbed the "princess of pop," has been serenading us with her pop hits for decades. Not only that, but she's also managed to reinvent herself as a style icon because of her inimitable, age-defying, red-carpet appearances where she comes out looking much hotter than other decades her junior. While it is true that she's undergone surgery to help her in her battle against wrinkles—a fact which, to her credit, she never denied or tried to hide—she clearly hasn't gone overboard like most celebrities.
Sometimes, we just need a little pick up so that we can be fresh again after a rough patch. That's just what Minogue did and she made it look so natural, too. She really knows how to maintain her youth. Even though she did undergo a few procedures here and there, she doesn't look like she did.
COURTNEY COX | 55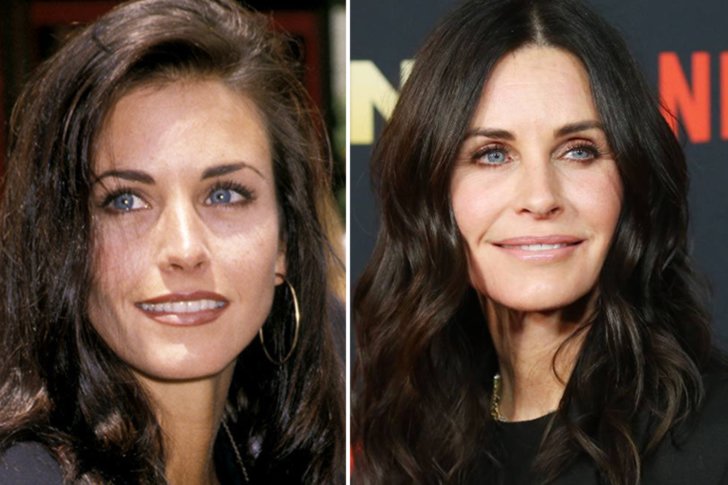 Actress, producer and director, Courtney Cox, who is probably world-famous for playing Monica Geller on the incredibly successful television sitcom, Friends, said for a recent interview that she feels better than she ever felt. True, she took the surgery route to keep the effects of aging at bay but said she learned from that mistake. Hollywood, she says, makes one think appearance is all that matters—this was one mistake she fell for and fell for hard. Now, however, Cox is to her credit trying to keep things natural, and implies that she won't be getting surgery again to correct things that should be accepted instead.
It is such an inspiring thing to hear from a celebrity with such a reputation. A lot of people think too much about their looks, but even Cox embraces her imperfections. She knows that some lines are a natural part of our bodies and that it isn't something we should be afraid or ashamed of.
SANDRA BULLOCK | 55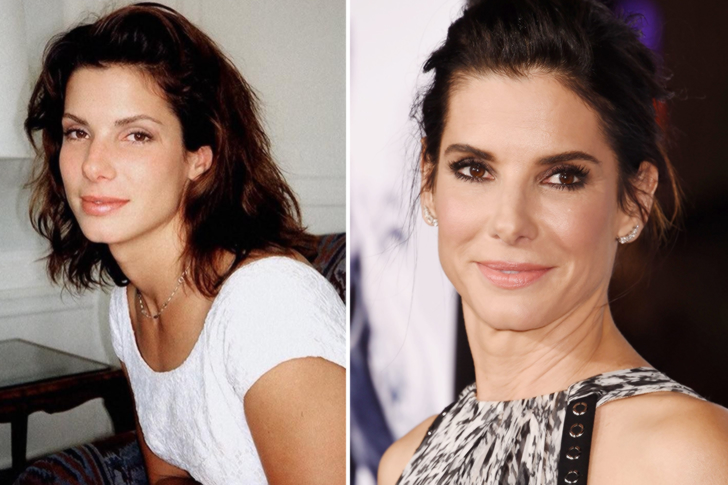 Actress, producer and philanthropist, Sandra Bullock, who got the distinction of being the highest-paid actress in the world in the years 2010 and 2014, as well as the distinction of being People magazine's Most Beautiful Woman in 2015, is a celebrity whose ageless visage has remained a thing of curiosity and enigma for years. How in the world is she able to appear 20 years younger than she actually is?
Rumors have swirled around that she's had cheek fillers and implants, but Bullock was quick to dispel them, saying she's always gone au naturel. And, to Bullock's credit, it does seem like she's never gotten cosmetic surgery of one kind or another. Maybe we can blame her heaven-sent genes for her skin aging at a snail's pace. She looks beautiful and youthful in a way that's just refreshing. Maybe if the rest of us pamper our skin the way she does, we could get the same results.
ANGELINA JOLIE | 44
Actress, filmmaker and humanitarian, Angelina Jolie, who was catapulted to stardom after the release of her debut film Hackers in 1995, and who had been ranked among the highest-paid actresses in the world many times in the past, is another celebrity who can teach us a thing or two about maintaining beauty in the face of aging. Indeed, if there's anything we've learned from her style, it's that less is more, and experimentation shouldn't be taken to the extreme. After all, Jolie is a master of the natural but impactful look.
She is, to a huge degree, genetically blessed, but it's also her humanitarian streak, and not just her physical looks, that makes her inspiring and beautiful. Despite being hugely successful in her career and despite being hailed as one of the most beautiful women in the world (and across many generations), she still makes time to give as much as she can to those in need.
KRIS JENNER | 64
Reality television personality, producer and businesswoman, Kris Jenner, who many will know as the matriarch of the Jenner-Kardashian family, and as one of the stars of the hit reality television series, Keeping Up with the Kardashians, is widely considered to be one of the most powerful women in the world today. The lady owns an empire, after all—an incredibly ubiquitous empire that one couldn't escape hearing about even if one wanted to.
So how is she able to look so much younger than she is? Well, she claims it's because of all the investments she's made in super-creamy moisturizers and regular facials. She obviously takes such good care of her skin. She doesn't look her age and she doesn't look like she has given birth to a lot of kids as well. She has surely imparted a lot of what she knows to her gorgeous kids as well — this could even be another reason why she seems so young and happy.
ELIZABETH HURLEY | 54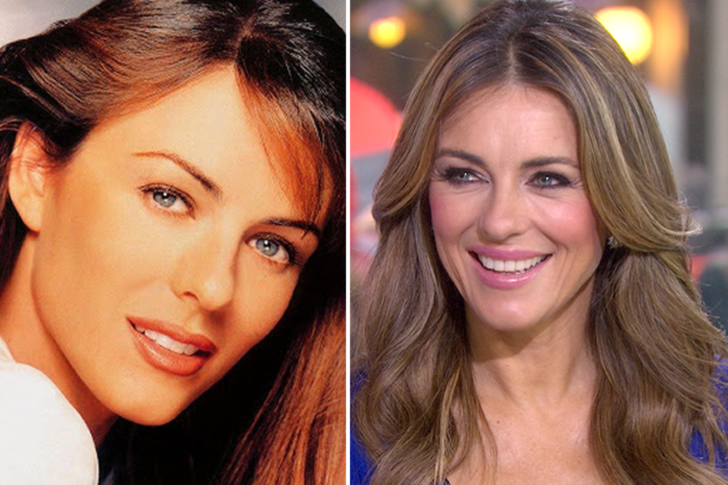 Actress, a model, and businesswoman, Elizabeth Hurley, who many will be familiar with for playing the role of Vanessa Kensington in the spy comedy film Austin Powers: International Man of Mystery, has always been ranked among the hottest women in Hollywood. Not only is she aging at glacier's pace, but her body is also, to a huge degree, as shapely as ever—despite that she's now 54. When she was asked how she was able to look decades younger than she is, she said she keeps hydrated and uses Estee Lauder products, the cosmetic company she's been the face for since 25 years ago.
She seriously stands by the brands she endorses. If they work like she says they do, then it means the product has genuinely done wonders for her skin. On top of her different skincare products, the exercise and diet that she does is also something we have to consider.
JESSICA LANGE | 71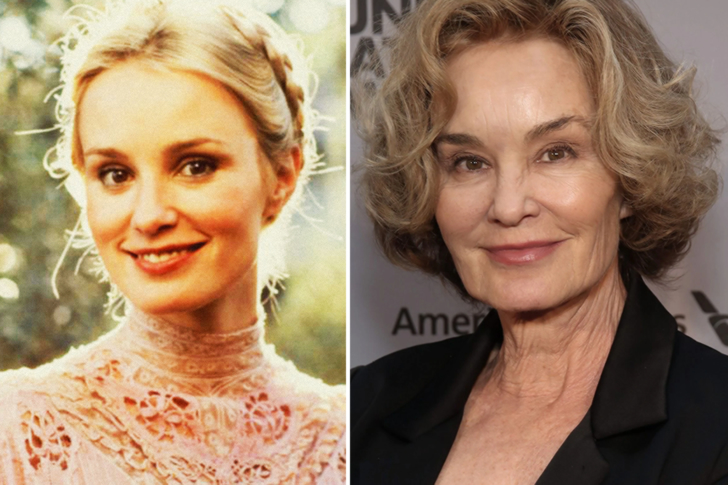 Multi-awarded actress Jessica Lange, who's one of only a few actresses in the history of Hollywood to have won the 'Triple Crown of Acting,' having won an Academy, Emmy, and Tony award for her past work, has been flooring people and turning heads for decades. After appearing in the 1976 King Kong film, she's been a certified leading lady ever since. Her filmography is even incredibly longer than most veteran actors and actresses in Hollywood, which is a testament to how successful she's become as an actress.
Indeed, Jessica Lange is a timeless beauty par excellence and is truly deserving of our admiration. The talent that she has shared with the world is exceptional. How she took care of her pretty face and how she maintained her body through all these years is really admirable. We will definitely listen to any beauty tips and tricks that she has to share!
MELISSA SUE ANDERSON | 57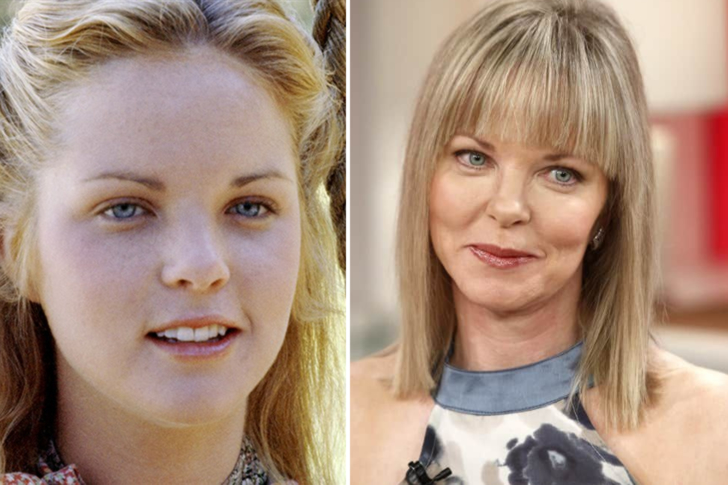 Canadian-American actress, Melissa Sue Anderson, who many might remember as little Mary Ingalls in the historical drama series, Little House on the Prairie, was a huge star in the 70s and 80s. She's steadily landed other roles ever since but has remained under the radar in recent years for reasons that may have been her own choosing. Whatever the case may be, her contributions to television and film, especially during the late 70s to mid-80s, cannot be denied.
The latest pictures of Anderson, much to her credit, show her to be looking much younger than she actually is, so we'd argue tooth and nail that she's totally deserving to be on this list. She might have picked up a lot of techniques on how to maintain her natural beauty from her years of constantly being on-screen. Hollywood surely has a lot of recommendations and she might have listened very well to them.
SELA WARD | 63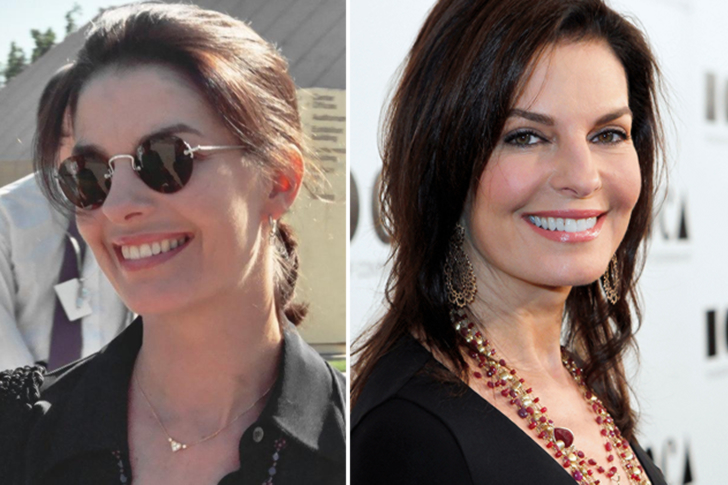 Actress, producer and author, Sela Ward, whose breakout role was that of Teddy Reed in the television family drama series, Sisters, is another bombshell who's undeniably aged gracefully. Her latest pictures online are all the evidence one needs to be convinced of this fact. Despite the fact that she shared during one interview that she no longer had the metabolism she used to and was thus finding it more difficult to stay in shape, we have to say that she is still quite slim.
What's her secret, then? Well, she says she took her credit card out and got a StairMaster, which she uses thrice a week. Exercise is very helpful especially when you get older because you tend to put on weight faster. You really need to aid your digestion and get a move on if you want to maintain that figure. Ward already had it figured out and she is now looking mighty fine.
JACLYN SMITH | 74
Actress and a highly successful businesswoman, Jaclyn Smith, who many will remember for her role as Kelly Garrett in the highly successful television series Charlie's Angels, reportedly became a grandmother at 70. And while we can't lie and say she doesn't look like one, we can definitely give her credit for being one of the hottest grandmothers we've seen. Smith, at 74, is truly still deserving of the beauty icon status that she secured for herself during her younger years as a Charlie's Angel, as she continues to inspire women to see age as just another number with her grace and style.
Even up to date, you could still bet that she can pass for one of the cast members of the hit spy movie. She might have gotten older but it sure does not look like it because, on top of the beauty measures she's done, she also carries around a lot of confidence.
JULIA ROBERTS | 52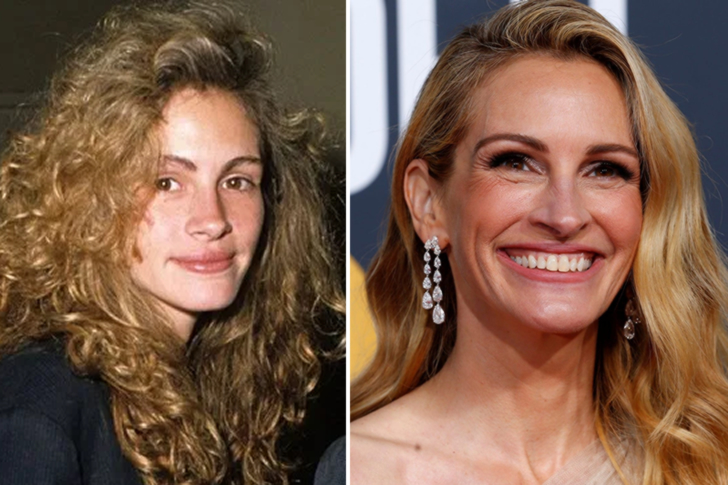 Multi-awarded actress and producer, Julia Roberts, who gained wider recognition for her role in the highly successful film Pretty Woman, and who is, today, easily one of the most recognizable leading ladies in Hollywood, is another celebrity who looks decades younger than she actually is. Indeed, at 52, Roberts could be mistaken for someone in her thirties—that's how incredibly young she looks. And this is despite having given birth to three children already.
An article in Vogue magazine says that Roberts, much to her credit, is living proof that, in this day and age, 50 is the new 30. Her beauty has really set the norm for other women out there. Because of what she has achieved, she became really iconic in her generation. Now, we can all feel younger for longer. Even years after her movies were released, we can all still say that Roberts really deserves the title "pretty woman".
SHARON STONE | 62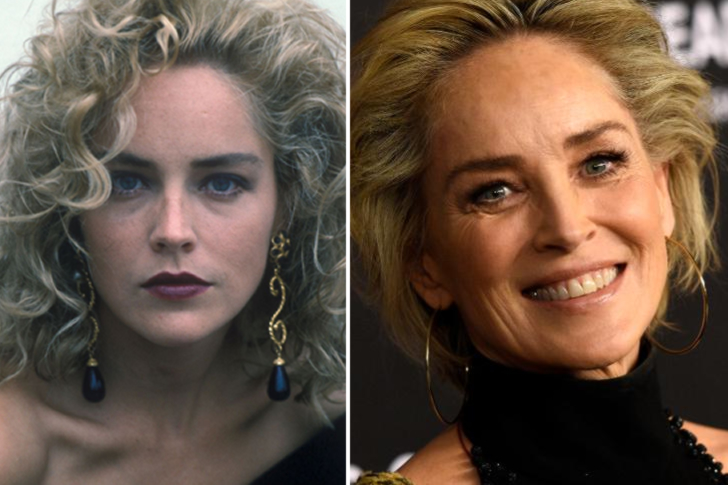 Actress, producer, and former model, Sharon Stone, whose poster landed in every teenage boy's bedroom in the early 90s following her portrayal of Catherine Tramell in the neo-noir thriller, Basic Instinct, is still unbelievably hot in her 60s. We cannot even believe that she's already 62. Interestingly enough, Stone told Oprah for one interview that she didn't think the possibility of timeless beauty was possible. To that, we can only say: look at the mirror, Sharon, because you are the very evidence that it is!
To her credit, however, Stone shared that she thinks imperfections are a good thing and that they make people who they are. Well, on that note, we agree! It's great that she is so hopeful about stopping aging altogether, but it is also better that she inspires a lot of us to embrace all that we are, including our flaws. Being beautiful should be a mindset that we choose.
BARBARA BACH | 73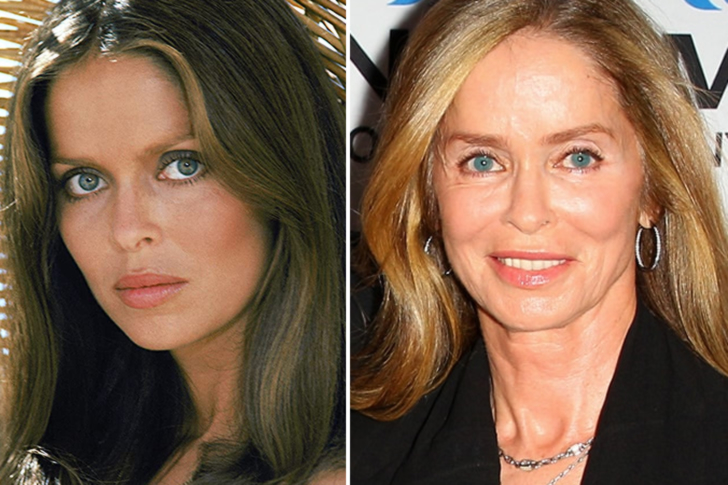 Actress and model, Barbara Bach, who's best known for her role as Anya Amasova in the James Bond film The Spy Who Loved Me, and for being the wife of Beatles drummer Ringo Starr, surprised everyone by looking so amazingly beautiful while swiping her credit card and doing her shopping on the streets London a few years ago. Indeed, she looked so many years younger than she actually is.
And not just that, she had an incredible figure, too, that we can't help but wonder whether she made a deal with the devil so she could age slower than the movement of the continents. Whatever it is that she did, it is worth giving a listen to. She really knows how to keep her looks young despite all that life has thrown at her. She is indeed a real inspiration to a lot of women who are insecure about how they look.
SALLY FIELD | 73
Multi-awarded actress and director, Sally Field, who's another actress who's won the 'Triple Crown of Acting,' having received an Academy, Emmy, and Tony award for her past work, is one celebrity who attributes her success against aging to her complete rejection of cosmetic surgery. Field says that she thinks plastic surgery makes people look more horrible—and thinks anyone who wants to look young should avoid doing it at all costs.
To her credit, the anti-plastic surgery philosophy seems to be working out for her, but we do have many on this very list who opted for one cosmetic procedure or another. A celebrity taking a stand against plastic surgery in the middle of the glitz and glam of Hollywood is truly inspiring but we also respect those who chose to get their beauty from a clinic. They're all beautiful and no matter what they believe in, they have every right to do what they want with their own bodies.
CYBILL SHEPHERD | 70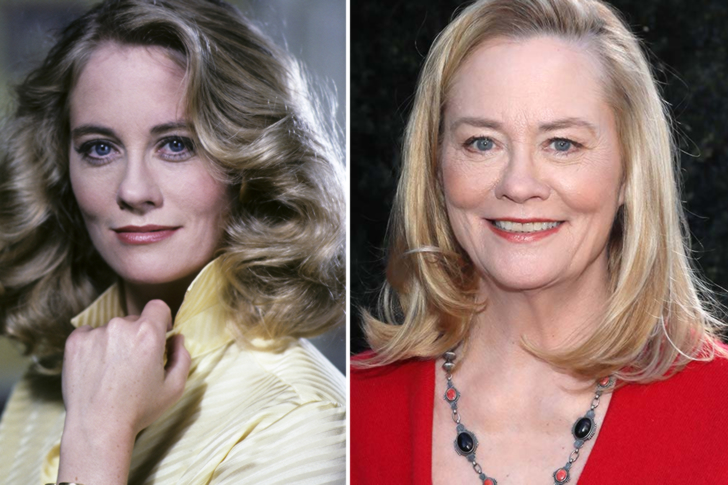 Actress and former model, Cybil Shepherd, who's best known for her role as Jacy in The Last Picture Show, and Kelly in The Heartbreak Kid, once amusingly said that it's tough to be beautiful, but that she persists. Indeed, one can't help but lock their eyes on Shepherd as she enters a room, given how tall and beautiful she is (she is reportedly 6 feet tall!). To her credit, she's still, at 70 years of age, looking like her graceful and pretty self, and is inspiring others to welcome the aging process as inevitable and beautiful.
Truly, being pretty comes with a lot of expectations and a lot of attention – both wanted and unwanted. Being the big celebrity that she is, Shepherd really recognized this. Her full acceptance of her body is inspiring to everyone. Though she uses her charm to her advantage, and she embraces aging as a natural phenomenon.
JULIANNE MOORE | 59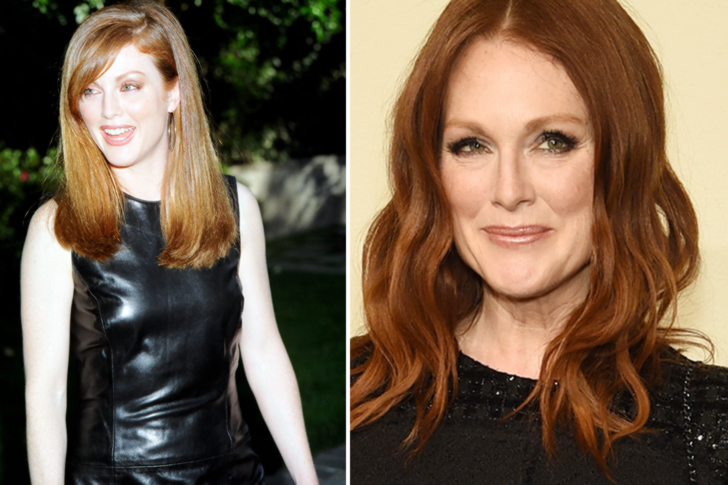 Actress and author, Julianne Moore, who's been included in Time Magazine's list of 100 Most Influential People in the World in 2015, and who gained wider recognition for her involvement in the film Boogie Nights in 1997, once shared a selfie of herself without makeup on Instagram. Naturally, she surprised everyone with her absolutely flawless skin. She was asked how she was able to look so young, and her simple answer was eye cream and moisturizer before bed.
Of course, as was the case with other celebrities on this list, she took the opportunity to plug a sunscreen product, too, which we would totally max out our credit cards to acquire if it will make our skin as flawless as hers. Perhaps we could try out the key products that she mentioned. Hydration and sun protection have been said to slow down aging by a lot of credible people, and since the result is so apparent on Moore, we better be on our way!
ELLE MACPHERSON | 56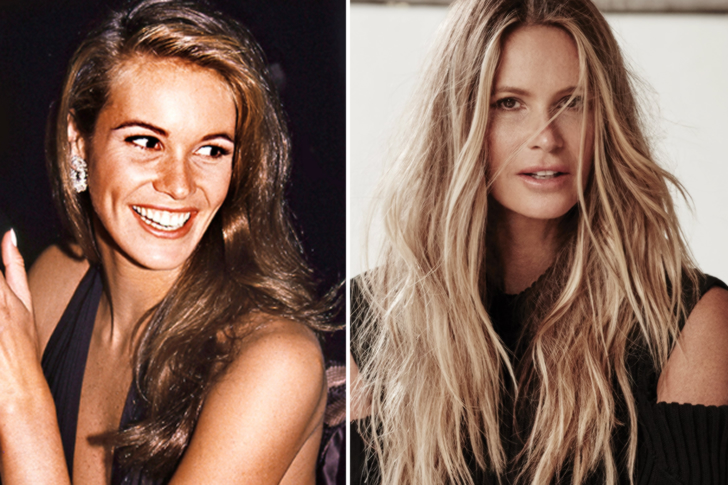 Model, actress, television personality and businesswoman, Elle Macpherson, who gained wider prominence after appearing in Sports Illustrated Swimsuit Edition (which she would go on to appear in for another 4 times), and for being one of the most successful models of the 80s, doesn't infrequently share selfies on Instagram where she looks, rather incredibly, no older than she was during her supermodel days. To her credit, the former model and now television host is managing to keep fit, too.
Macpherson did admit to trying botox and collagen injections, but said they didn't work for her and that she'll be sticking to natural remedies from hereon. She gave the tempting procedures a try but it really isn't for everyone. Now that she believes in natural beauty, we can really see the confidence in her smile, even though she isn't as young anymore. She can still flaunt her youthful glow and vibrant personality on and off-screen.
OLIVIA NEWTON JOHN | 71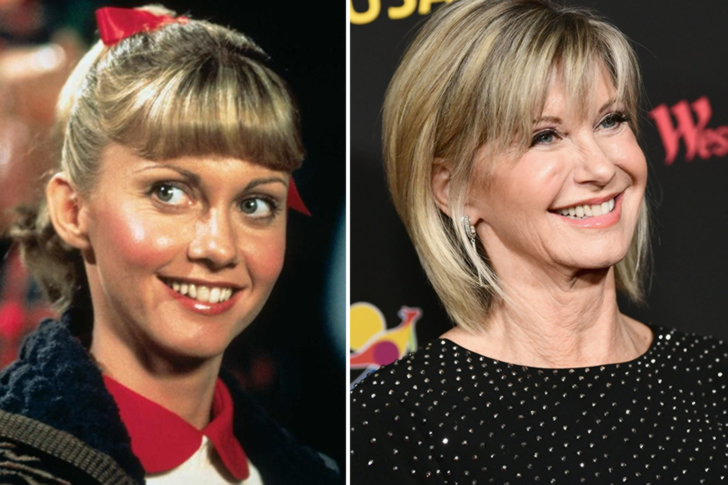 Actress, singer, entrepreneur and activist, Olivia Newton-John, who's had her share of Grammy-award winning albums in the past, and has sold an estimated 100 million albums worldwide, is one celebrity who's got quite a storied past. Many don't know, for instance, that her grandfather was a Nobel laureate, and that her father was employed by MI5, which is Britain's counterpart to the CIA. Another interesting fact about Olivia is that she's a breast cancer survivor, which, to her credit, pushed her to create the Olivia-Newton John Cancer Wellness and Research Centre.
Unfortunately, it's been reported that her cancer came back, so we hope she'll win the fight and inspire us once more to never give up. Though she has been through a lot, her smile still shows how strong she is. On top of being a cancer survivor, her age does not reflect in her looks. She surely looks beautiful even today.
STACEY DASH | 53
Actress, model, and former talk show host, Stacy Dash, who rose to prominence after playing Dionne Davenport in the coming-of-age comedy film, Clueless, is another celebrity who looks many years younger than she actually is. She revealed for one interview that she stays in shape and maintains her youth through a combination of exercise and diet—particularly, a high-protein, low-carb diet. Indeed, anyone who follows Dash on Instagram knows that a large percentage of what she shares are photos of herself working out.
And, we give her a lot of credit for what she's accomplished, especially since her childhood was marred with violence and abuse. She has stood up stronger than ever and used the obstacles she's been through as learning opportunities. Now, she is a fierce media personality and a stunningly beautiful woman. Her fitness journey is very inspiring, most especially to women in their 50s. She shows them that if she can maintain her body, they can too.
DEBRA MESSING | 51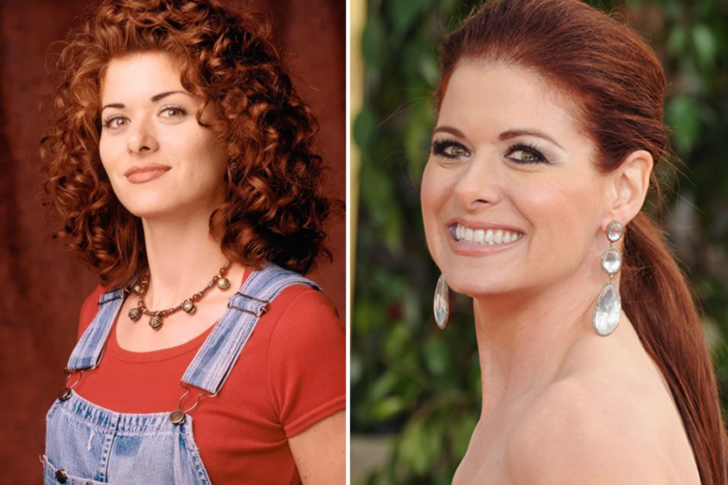 Debra Messing, an American actress, and comedian whose breakout role was that of Grace Adler in the highly successful comedy sitcom Will and Grace, said for one interview that she credits sleep, hydration, and "very expensive beauty products" for her youthful appearance. And she's not kidding, too, because she has, on more than one occasion, been able to share selfies of herself on social media that confirm her skin is still as tight as that of a 20-year-old. She also listed down the skincare products she uses on a regular basis, but they are definitely on the expensive side.
She chose to invest in her looks and it has really paid off. There are some things we just can't scrimp on especially when we are dealing with our bodies. Messing certainly knows what products work for her and what ingredients really make her skin glow. We would like a complete version of that list for our reference, please!
JULIE ANDREWS | 83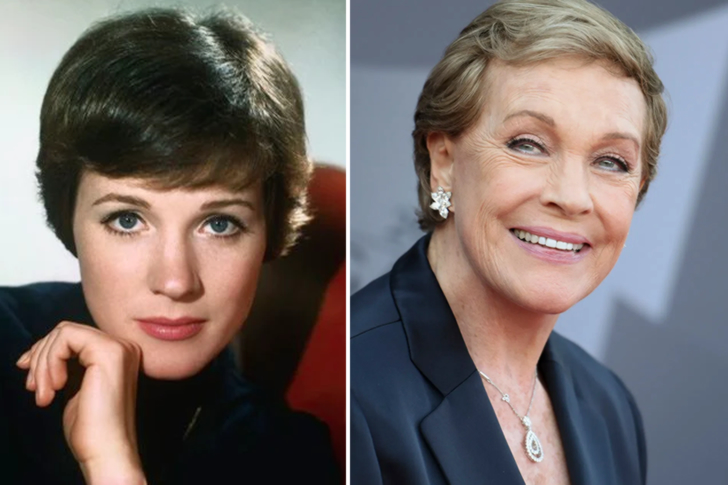 British actress, singer and author, Julie Andrews, who everyone will remember as Maria, the "problem" all those singing nuns wanted solved in the highly successful musical film, The Sound of Music, offered a simple response to the question of how she was able to keep herself looking decades younger than she actually is. And her simple response was that one should drink as much water as one could. It's a bit too simple for our tastes, to be honest. And it borders on the platitudinous, so much so that we suspect Andrews is doing more than just that.
But if an investment in keeping yourself hydrated made a difference for her, then we're all for it. Water really does help make your body healthy, so it follows that when you're properly nourished, the glow and health also go to your skin. Andrews really has aged gracefully over the years and though her roles have changed, she still looks great on screen.
DOLLY PARTON | 73
Singer, songwriter, actress and producer, Dolly Parton, who got wider recognition after the release of her album, Hello, I'm Dolly, in 1967, is a beauty icon who took the route less taken. And by that we mean she's created this persona of someone who's admittedly more interested in drugstore makeup and DIY beauty hacks than following the Chanel or Estee Lauder philosophy. Indeed, Parton said for one interview that anything can look good if one knew how to apply it, and that "It [took] a lot of money to look this cheap!"
However tacky and unorthodox her style is—and we're not even sure we fully understand it—what's certain is that she deserves credit for having established an empire on its basis. When the day that we begin to fathom Parton's beauty philosophies comes, we would not only be jumping with joy but also be unlocking her secret to youthfulness and fun beauty.
BERNADETTE PETERS | 71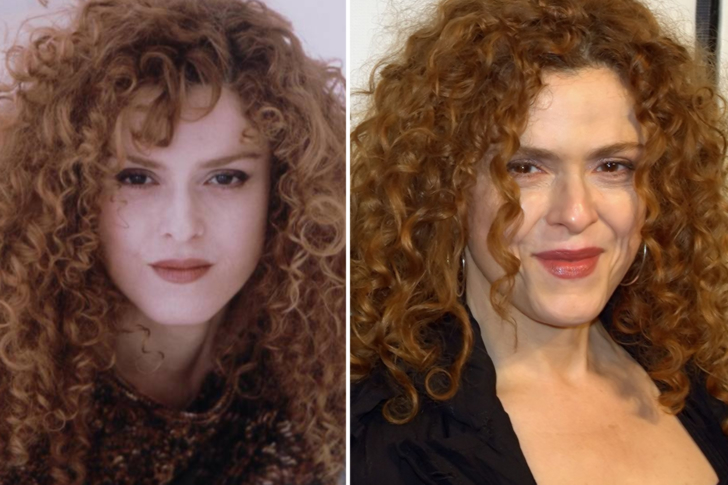 Actress, singer, and children's book author, Bernadette Peters, whose career spans more than five decades, and who's work consisted of roles in stage, television and film, is a legend of show business in her own right. She shared for an interview that she wasn't able to exercise regularly, but that she cleared her mind and meditated every day, which is one of the reasons why, to her credit, she's so balanced and centered.
One other piece of advice she gave to those who want to maintain their well-being is to get a dog. A dog, she says, is "good to have around." Because of the positive environment that she is in, her stress lessens. Her dog probably makes her very happy so the constant lightness and playfulness contribute to make her smile and maintain her youth. Who knew that pets are a good way to not only gain friendship but also to remain beautiful?
ALLY SHEEDY | 57
Actress and author, Ally Sheedy, who many will remember was a member of the Brat Pack (that group of actors and actresses who didn't infrequently appear alongside each other in various coming-of-age teenage films of the 80s) is another celebrity who looks more than a few years younger than she actually is. Sheedy, along with Molly Ringwald and Demi Moore, was one of the women of the Brat Pack. They were, to a huge degree, an extremely successful bunch during the 80s, as every other teenage flick had one or more of them starring in it.
After her hugely successful time at the height of her career, she still remained stunning over the years. Although she is no longer as active in the industry today, she certainly still maintains her appearance very well. Apparently, you don't need a show to keep being a diva. Sheedy is a true inspiration to women who followed her when she was a teen.
DIANE LANE | 55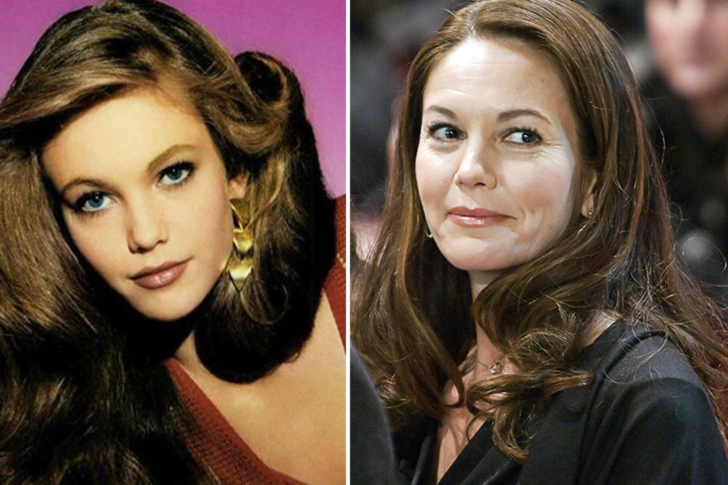 Actress and producer Diane Lane, who gained wider prominence after her award-winning performance in the 2002 film, Unfaithful, has been in the acting business since she was a teenager, and has been flooring people with her good looks ever since. She was asked for one interview what her beauty regimen consisted of, and she interestingly said that she doesn't want to use the word "anti-aging," and that she hates being associated with anything, or any product, that claims to have properties to that effect.
It's those products that market in fear, the actress said. We can't help but somewhat agree with Ms Lane's sentiments, but that, unfortunately, leaves us no closer to finding out how she's able to look so spectacularly young. She probably uses more natural procedures or organic products. She might have a bunch of them that works for her so we should also look for the specific stuff that works for us and our skin.
HELEN MIRREN | 74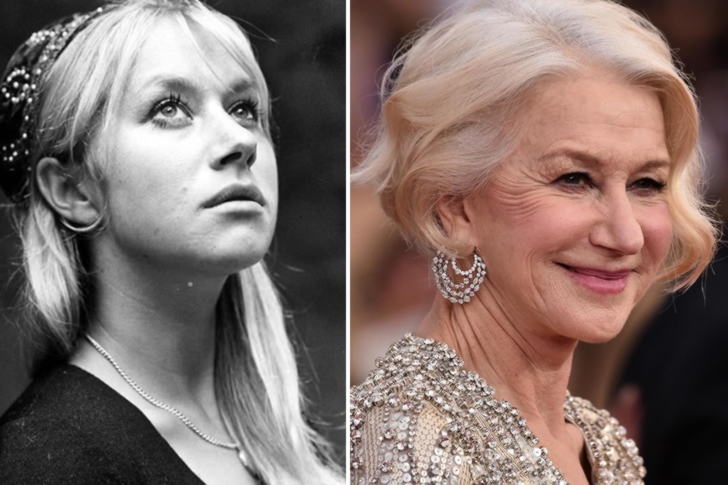 Multi-award winning British actress, Helen Mirren, another celebrity who's been able to win the 'Triple Crown of Acting,' having won an Academy, Emmy and Tony award for her past work, mentioned for a Glamour interview that she hates using the word 'beauty,' preferring the word 'swagger' instead. Of course, we think the veteran actress has got both beauty and swagger, and while she swears by the age-defying benefits of L'Oreal cosmetics, she might be simply saying it because she's one of the brand's ambassadors.
In any case, at 74, Mirren deserves credit for her ability to still rock it, on stage and on the big screen. Not a lot of women can take a close up in their 70s but Mirren certainly still looks beautiful up-close. She has gracefully taken on her years but she still maintains her fun-loving personality through it all, which helps her feel and look younger than she actually is.
LENA OLIN | 64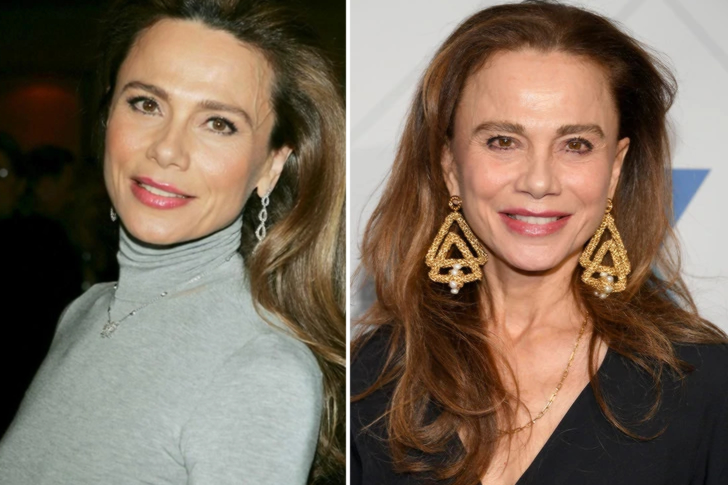 Swedish actress, Lena Olin, whose acting abilities gained worldwide recognition after her roles in the films The Unbearable Lightness of Being and Enemies, a Love Story (two films for which she received a Golden Globe and an Academy Award nomination for Best Actress) is to some degree one of the most underrated actresses in Hollywood. Indeed, she's not as well known as some of the veteran actresses on this list, but she certainly cannot be said to be less talented as far as the craft of acting is concerned.
And, we have to say that at 64 years of age, she's still managing to make heads turn. With her pretty features and her incredible body, no one would guess that she is already in her 60s. Her career in the entertainment industry just keeps on going because she looks spectacular — well, that and her acting skills. Age doesn't matter after all.
JENNIFER BEALS | 56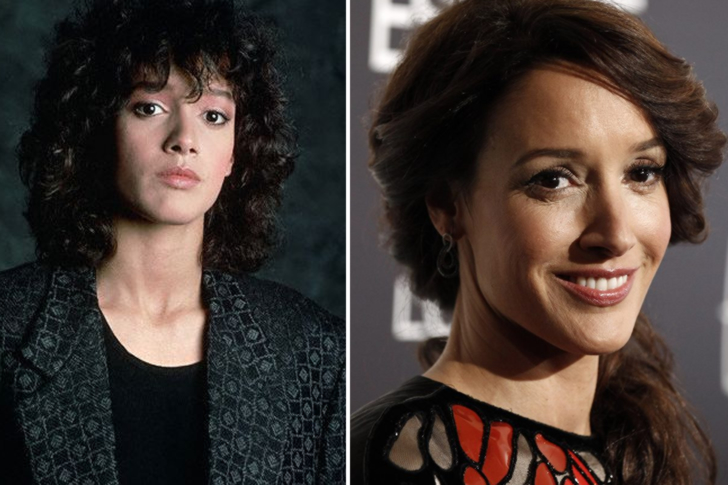 Actress and former model, Jennifer Beals, who received wider recognition for playing Alexandra "Alex" Owens in the romantic drama film, Flashdance, is another celebrity whose very existence makes the case for the notion that 50 is the new 30. Indeed, she's 56 but looks like she's only in her 30s. It's either she's got a really enviable set of genes or she must have done something that's successfully slowed down the aging process. She said she's made an investment in aqua sports and meditation, and that these two things have played a role in keeping her fit.
But looking at her pictures, we suspect it's more than that. She might have a few things in her dresser that helps her out but her fitness routine certainly does a great job at maintaining her strength and her figure. She didn't want to let go of her beautiful body shape when she was younger so she kept living healthily to stay the same way.
KATHLEEN TURNER | 65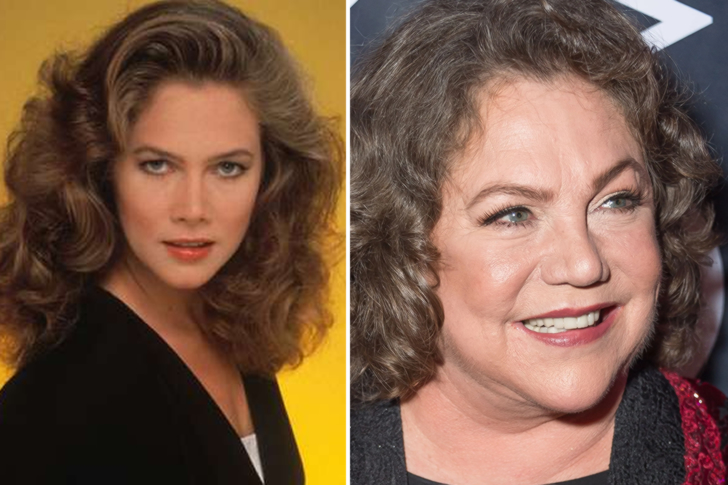 Actress and director, Kathleen Turner, who became somewhat of a household name during the 80s because of her role in the film Body Heat, a role for which Empire magazine listed her as one of the "100 Sexiest Stars in Film History," is now 65 years of age, but is still referred to by many outlets as a sexual icon. Indeed, Kathleen was such a symbol in her day that many find it difficult to separate her from her most memorable roles—roles that defined her career but are nothing like the real Kathleen Turner.
In any case, she is, to a huge degree, a beauty icon who's had a legendary career. And that makes her totally deserving to be on this list. Still beautiful up until today, Turner's beauty secret is still something we are dying to know about. She looks younger than her actual age and she is still glowing!
MELISSA GILBERT | 55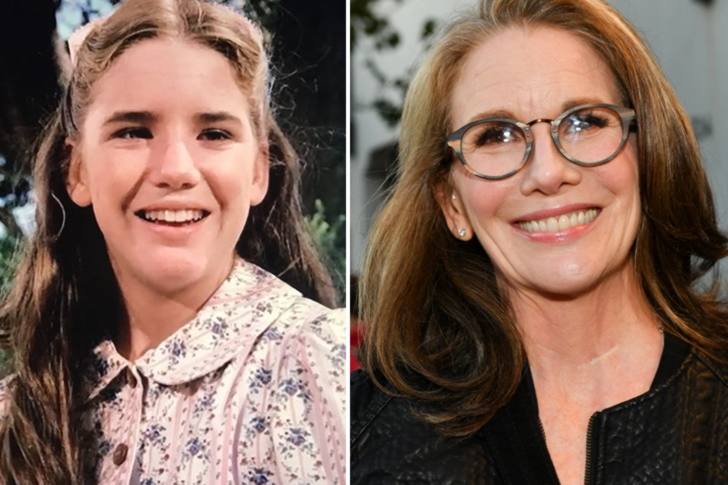 Actress, director, producer and politician, Melissa Gilbert, who many will remember for playing Laura Ingalls Wilder in the hit television series Little House on the Prairie, opened up for one interview that the surgical implants she's had in the name of beauty really messed with her head. She said that as a young teen, people were already trying to make her appear leading lady-like, and it led her down the path of cosmetic surgery, which she now says she regrets.
Now—and much to her credit—she's sworn off getting plastic surgery of any kind, and we're happy for her because we think she's beautiful and doesn't need one anyway.From where she is now, it seems like age is just a number. As of 2020, however, Gilbert underwent a spinal surgery. Thankfully, she managed to fully recover from surgery. She might need to make a few adjustments, but healing is definitely on top of her list.
JENNY AGUTTER | 67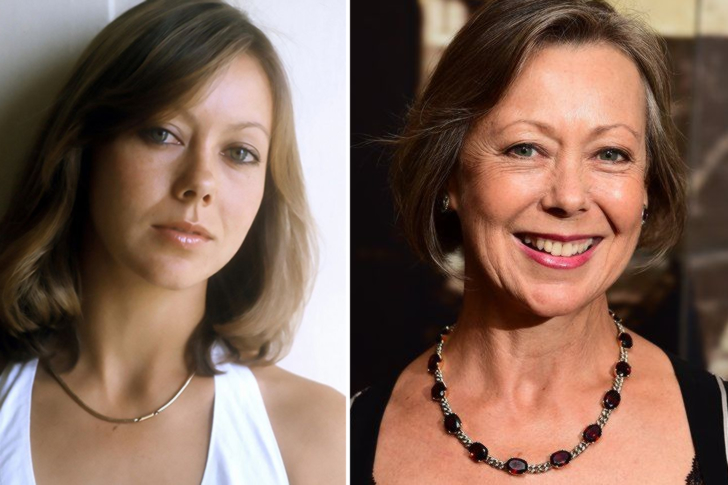 British actress, Jenny Agutter, who gained wider recognition after the release of the 1971 film Walkabout, where she played a character that was simply referred to as "girl," opened up about beauty and aging for an interview with Hello Magazine in 2019, and said that turning 60 was her "defining moment." Indeed, she says she's found "freedom" now that she's 60, and that she feels "liberated." Why did she say these things, you're probably wondering. Well, Agutter claims she's lived life for so long trying to be a "certain way."
And, to her credit, she's been able to let go of those negative motivations and be free. She previously opened up about her family's battle with cystic fibrosis, where none of them knew about until her niece acquired symptoms of the condition. The disease is hereditary, and it eventually causes damage to the nervous system, the lungs, and the heart.
STACY KEIBLER | 40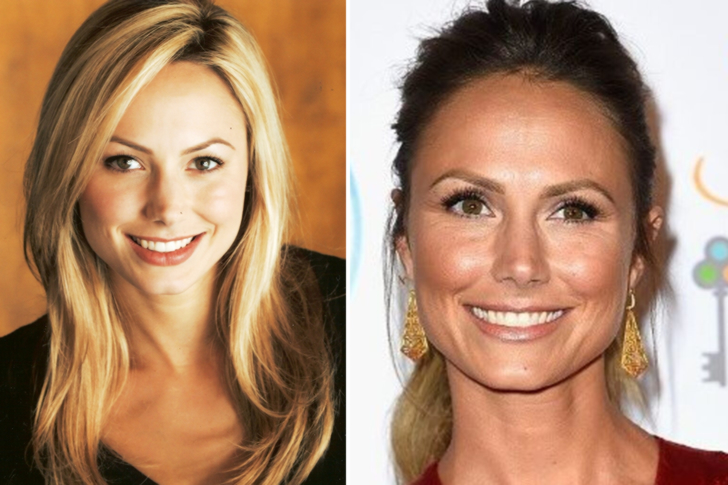 Actress, dancer, model, cheerleader and, yeah, professional wrestler (she's accomplished a lot!), Stacy Keibler, who many will be familiar with for her work in World Championship Wrestling and World Wrestling Entertainment, is now 41 years old, but could pass for someone in her late 20s! We're guessing that the fact that she works out a lot—like, a ton, if her Instagram account is any indication—is one of the reasons she's able to look so young, shapely and toned.
Also, to her credit, Keibler is apparently not a makeup snob, too, because she says she's fine with drugstore makeup. Being such a versatile talent, Keibler is one of those with such a flexible forte. As of this date, she seems busy and loving her lifestyle as a mom. Most of her social media posts revolved around her daily life and activities. We're not sure if she'll be competing inside the ring again — if she does, we're certain she'll be healthy enough to handle herself.
PAULEY PERRETTE | 51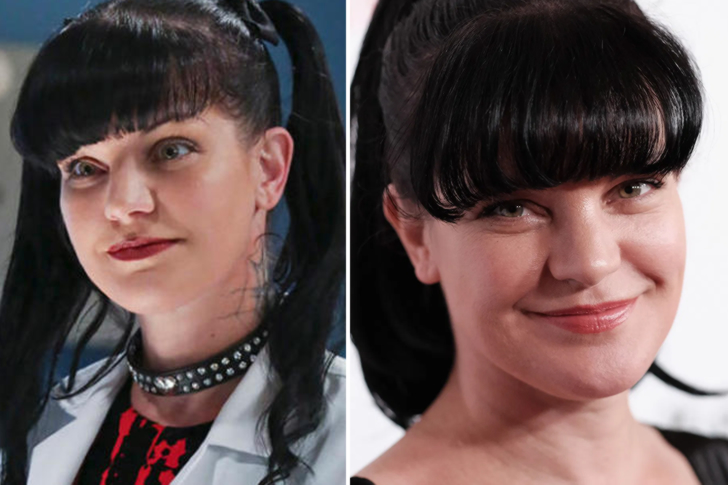 Actress, writer, singer and rights advocate, Pauley Perrette, who's best known for playing Abby Sciuto in the highly successful television series NCIS, is another celebrity who makes 50 look like 30. Indeed, the porcelain glow on her skin is a rarity that many will believe was only made possible by a complicated and expensive skincare routine that only millionaires and celebrities will be able to afford. But, Perrette says: not so.
In fact she says the secret is simply baby oil. Yup, that's what she said; she said she washes her face with baby oil and drugstore bought soap. It's pretty anticlimactic, to be sure, but it's a simple investment that anyone can make. As of 2020, Perrette seems to have retired from the limelight. Though there's no official decisions yet. Given the chance, there's a huge possibility that she might be back. And if she does come back, we're sure she'll slay.
SUSAN DEY | 67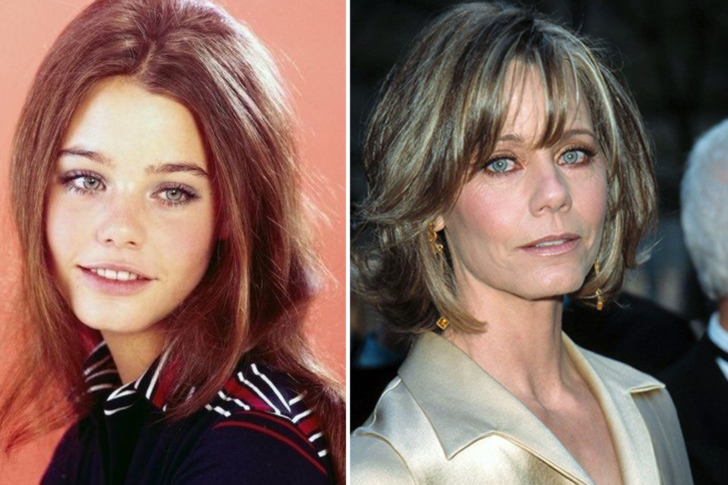 Retired actress, Susan Dey, who many of you will remember played Laurie Partridge on the highly successful sitcom The Partridge Family, as well as Grace Owen, a lawyer in the hit legal drama series L.A. Law, is a southern beauty who's been away from Hollywood's radar for quite some time now. During the peak of her career, however, she was one of the most bankable actresses of her time.
She's been landing roles in television and film since her L.A. Law days, but virtually stopped appearing on screen by 2004. We're not sure why, but what's certain is that, like everyone else on this list, her beauty has that timeless appeal. Though there is no information about her latest movies and projects, she does make a few appearances every now and then. Her solid fans , however, can't help but notice how she's managed to remain glowing despite her age.
CATHERINE BELL | 51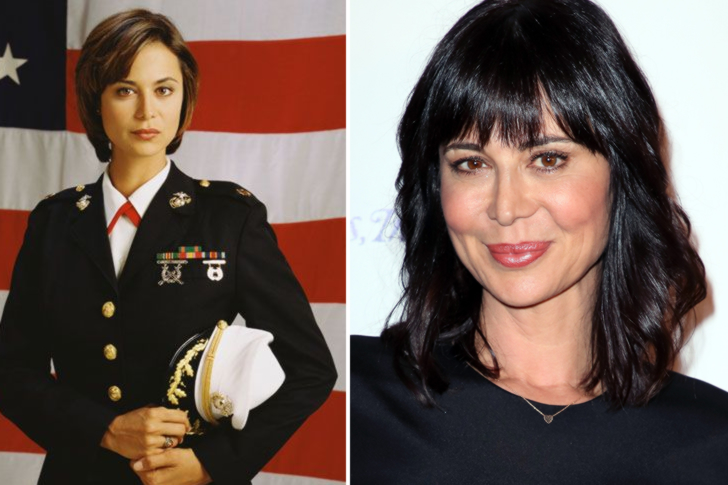 Actress Catherine Bell, who many will know as the actress who played Lieutenant Colonel Sarah MacKenzie in the hit television series JAG (which we just found out stood for Judge Advocate General—you learn something everyday!), was interviewed in the past and was asked how she was able to keep herself looking so young. She said that she's lucky because her mother, being Persian, had naturally young-looking skin, which she suspects was a trait that she inherited. And, to some degree, yeah—we think she looks a bit Persian, too.
Also, her skin is truly among the things that make her look young and deserving to be on this list. Career wise, there seems to be no signs of her stopping just yet as she still manages to have airtime on NCIS. Years of being in the limelight, Bell did age, but she seemed to age pretty well. Indeed, she seems to be much younger than she actually is.
LISA BONET | 52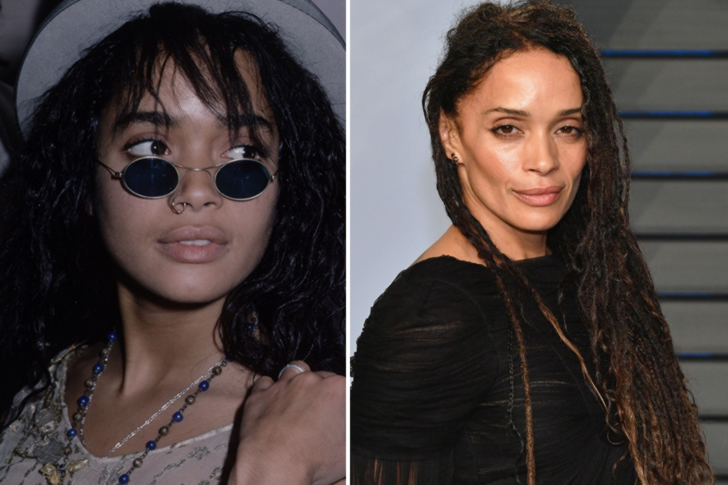 Actress and activist, Lisa Bonet, who many will remember for her role as Denise Huxtable in the highly successful—nay, highly iconic—sitcom, The Cosby Show, is one celebrity that we find very mesmerizing. We're not sure why—if it's the coiled bangs, the perfect bone structure or the age-defying glow of her skin, or all of those combined. What we can say, however, is that she looks, to her credit, way younger than she actually is.
Indeed, we suspect it's one of the reasons why she was able to snag Aquaman Jason Momoa, who's practically a decade younger than she is. In terms of their relationship, it seems like the two can't get enough of each other as Jason would openly gush about his wife. We also like how Jason always manages to surprise her, even with little things. One of his recent surprises involved the restoration of her first car — which made her heart leap, of course.
SALMA HAYEK | 53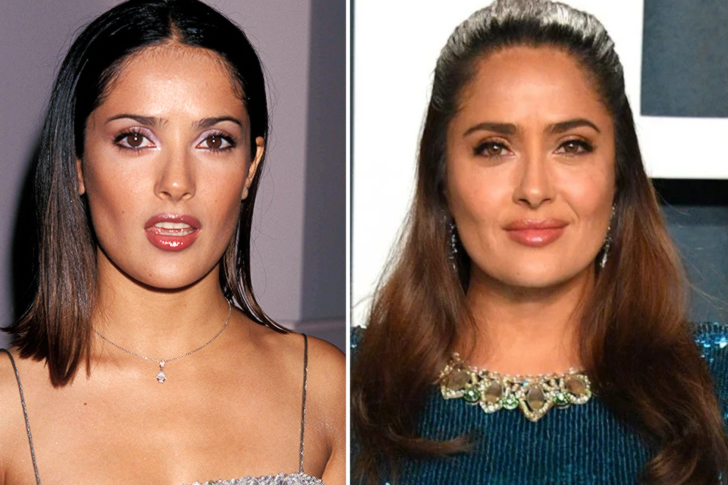 Mexican-American actress and producer, Salma Hayek Pinault, who started her acting career starring in Mexican telenovelas and then transitioned into Hollywood, gaining wider recognition for her role in the action film Desperados, is someone we are simply amazed by. Indeed, we invite everyone to google her latest pictures online, and then compare them to her pictures from 1 or 2 decades ago, and then marvel at the fact that she looks virtually the same. It is literally possible that she is a living, breathing vampire, because to her credit, while we've gotten more than a few gray hairs in the years since, she hasn't aged a minute.
Although she does not have any recent projects, Hayek managed to live a fulfilled private life along with her husband, François-Henri Pinault. The duo share a daughter, Valentina, who's been kept out of the public so that she can live a happy and private childhood.
PAMELA ANDERSON | 52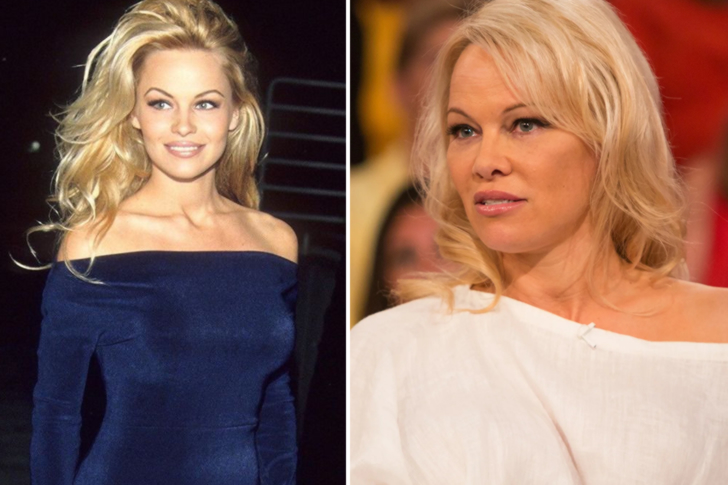 Actress, model, activist, and author, Pamela Anderson, who is best known for her role in the highly successful television series, Baywatch, as well as her dalliances with various rock and roll frontmen, said in an interview with Today that her anti-aging secret was lavender body oil. Indeed, instead of drowning her skin in various anti-aging products that many Hollywood leading ladies will swear by, Anderson says that she has one go-to product, which is 'Garden of Life Organic Extra Virgin Coconut Oil.'
The product also happened to be featured on the same Today article, complete with Amazon links! Do you know what this means? Anderson is probably being paid to plug their product! So let's just skip the lavender, coconut oil—whatever it is—and give Anderson credit for looking young at 52. In terms of her latest relationship, she's currently dating her bodyguard, Dan Hayhurst. And, if her past relationships are any indication, we're betting this little dalliance between them won't last more than a few months.
KATE BUSH | 61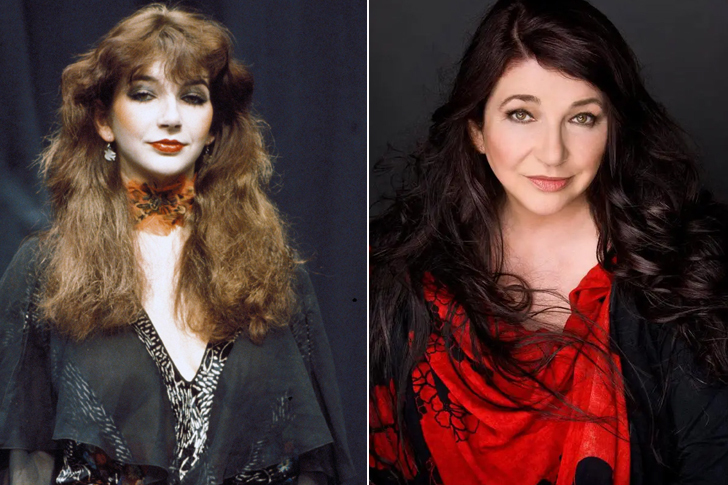 The iconic singer-songwriter turns 61 this year, but you wouldn't be able to tell given her youthful looks. She debuted in 1978 at the age of 19, quickly achieving success with her single "Wuthering Heights". Kate also holds the distinction for being the first female artist in the UK to snag the top spot in charts with a self-composed song! Since then, she has released numerous Top 40 hits, including "Babooshka" and "Don't Give Up".
Aside from receiving plenty of songwriting credit, she was also appointed as Commander of the Order of the British Empire back in 2013 for her contributions to music. She may be on a long hiatus, or may be officially stepping out of the limelight, but her music definitely lives on. She does not seem to have recent appearances, but every time she's seen in public, her followers can't seem to notice that she's aged well.
LINDA KOZLOWSKI | 62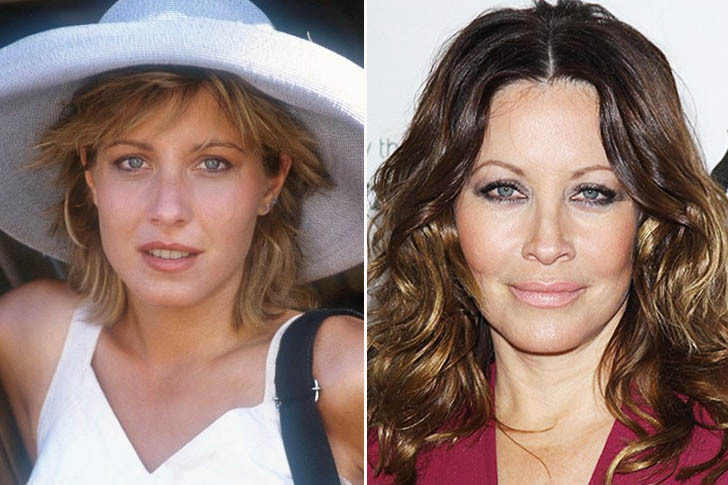 Linda Kozlowski used to put everyone in awe with her excellent acting talent. She started her acting career on the off-Broadway production of How It All Began in 1981. She also played the role of Miss Forsythe in Death of a Salesman on Broadway and reprised the movie version's role. Her big break came in the movie Crocodile Dundee in 1986. Kozlowski took the female lead, opposite Paul Hogan, who eventually became her husband. From reel, their love turned real.
They tied the knot in 1990 but parted ways in 2014. After doing two more Crocodile Dundee films and receiving other movie credits, Kozlowski decided to leave the entertainment industry. Eventually, the actress revealed that she was not satisfied with the roles she was getting. As for her relationship with Hogan, the duo also called it quits in 2014 where her divorce papers stated that they had a few irreconcilable differences.
DEMI MOORE | 56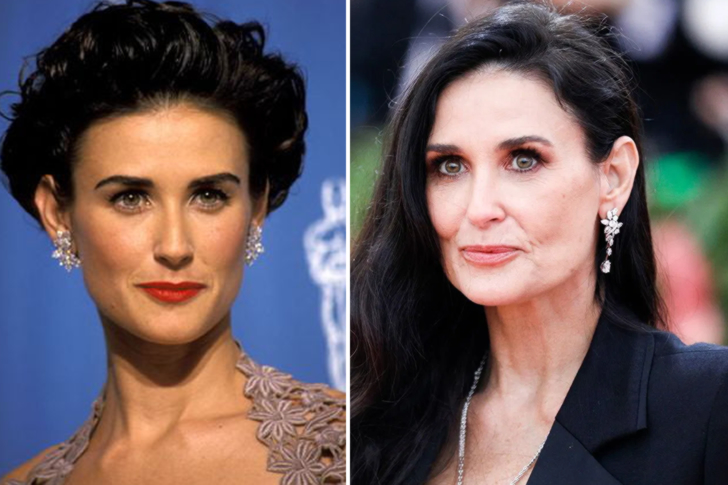 Actress, producer and all-around paparazzi magnet, Demi Moore, who gained wider recognition during the 80s as a member of the Brat Pack (a group of teenagers who were frequently cast in coming-of-age films during the 80s), shared for one interview her secrets for "glowing skin." Apparently, it involved a lot of moisturizers. In fact, it involved a ton of moisturizers. Oh, and yeah, she said skipping alcohol helps, too. In any case, we invite you to follow her on Instagram, because Moore definitely deserves a lot of credit for managing to look decades younger than she actually is.
She may have gone through a rough patch when it comes to her relationships but she remained strong and she managed to emerge successful despite the challenges she came across. Moore seemed to prove that age is just a number. Nearing her Golden Years, she seems to be doing a great job when it comes to her overall health.
LYNDA CARTER | 67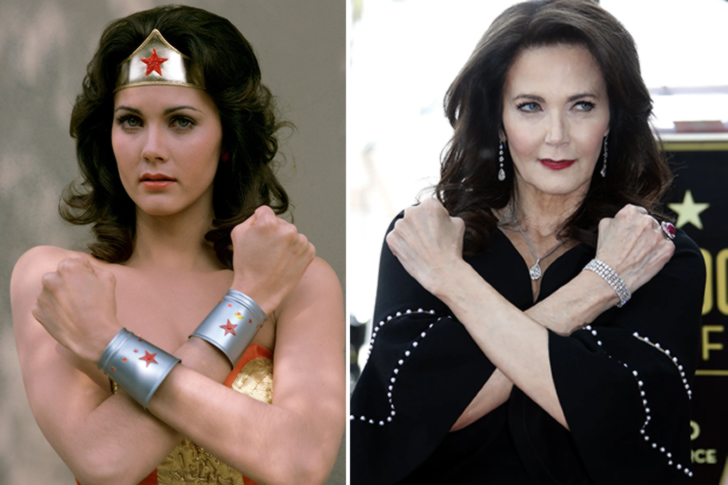 Singer, songwriter, model, actress, and all-around defender of the oppressed—er, wait, no, this last part is about Wonder Woman, a role she played—Lynda Carter, who many will of course remember as, well, Wonder Woman, attributes the slowness with which she ages to her use of sunscreen. And, we're not surprised, since many on this list swear by sunscreen. In any case, Carter, at least if her latest pictures are any indication, looks much younger than she actually is, and we suspect many will, to a huge degree, like the idea of her reprising the role of Wonder Woman, albeit a slightly more mature one.
Years may have passed, but the first Wonder Woman will never be forgotten. As for her onscreen roles, well Carter still managed to land a few projects. As of 2021, who would have thought that she'll be back on the set of Wonder Woman again? But this time, as a cameo.
JERI RYAN | 52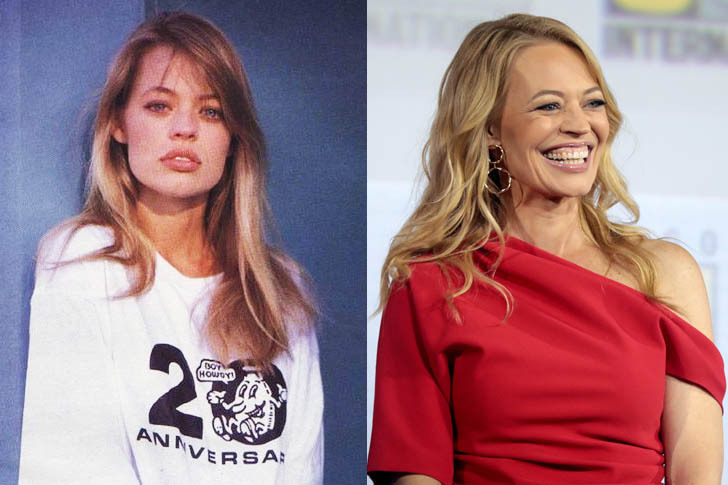 When Jeri Ryan graced This Morning on ITV, she surprised everyone with her looks. Famously known for her role as Borg drone Seven of Nine in Star Trek: Voyager, she recently returned on Star Trek: Picard to reprise her iconic character. And boy, she didn't age a bit! Some even gave her credits for her ageless beauty. It has been 23 years since fans last saw her on the Star Trek franchise, but she has kept her youthful glow.
Fans filled the Twitter world with compliments, asking if Ryan had found the fountain of youth, which might be the secret of her unchanging beauty. One fan even said that even though she's already 40 today, Ryan looks timeless. We couldn't agree more! As a follower, several questions would, of course, cross your mind on what her skin care routine is. Hydration must be on top of the list, but a healthy diet and lifestyle also plays a vital role.
You've Reached The End